4:47am

Needed to launch USW, don't expect me to be online for at least 8h.
good night

first shop at USW! Lunai's loot.
Can I move my artisan shop to the USW show room? That will save on portal size and oort for me. If the first spot is open in paints could I grab that and move over? @msnraul
Please let me know, super interested in moving to spot one in paint row on USW showroom.
Spot reserved for you mate. Just pm me when you come online
In fact you are one of the reasons that made me think it was required to create ShowRoom in other zones. Everytime I walked by your shop and saw your 18 conduit portal it hurted me

)
I hope now everybody will have a close ShowRoom requiring smaller and reasonable size portals to join.
Thank you so much!! @msnraul I appreciate the kindness via the hardwork needed for a usw expansion.
Now that molav moved to SR-USW we have the premium first spot of paints available at SR-USE
Anyone interested ?
I'll move gooing oort of business one square over

Let me know If any of the new locations gets me closer to maryx pls
Unfortunately not. Your closer location will always be ShowRoom USE. I planed this for geographical zones. We got the USE where your planet is, a USW, an EU and maybe in the future an AUS, not sure about this last one, unless I get a lot of petitions and prereservations probably won't build it, because it's a zone with very few planets,
Updated discord link, this one should work
My new portal at ShowRoom USW has been opened and will help me greatly reduce my oort cost per hour. Much appreciated @msnraul
I have been able to add a mail box, sign, and demo stand due to the reduced portal space. Thank you to all my patrons, let me know if there is a color that anyone would like to see in stock. I am expanding my farm by 25,500 blocks plantable.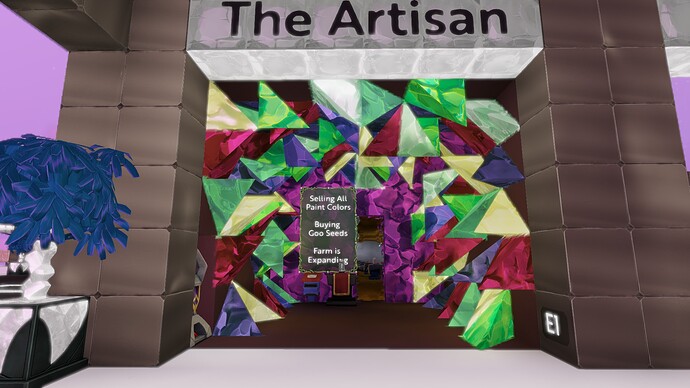 i openend the portal to my new event shop but atm still crafting and setting up hope to start selling soon but ya can check it out allready
kinda cheated and made it double purpose for my future ice shop
New portal opened to my shop called "The Naughty Blacksmith" within USEast of the ShowRoom … Specializing in reasonably priced Forged and Non-Forged tools of all kinds. Special orders welcome.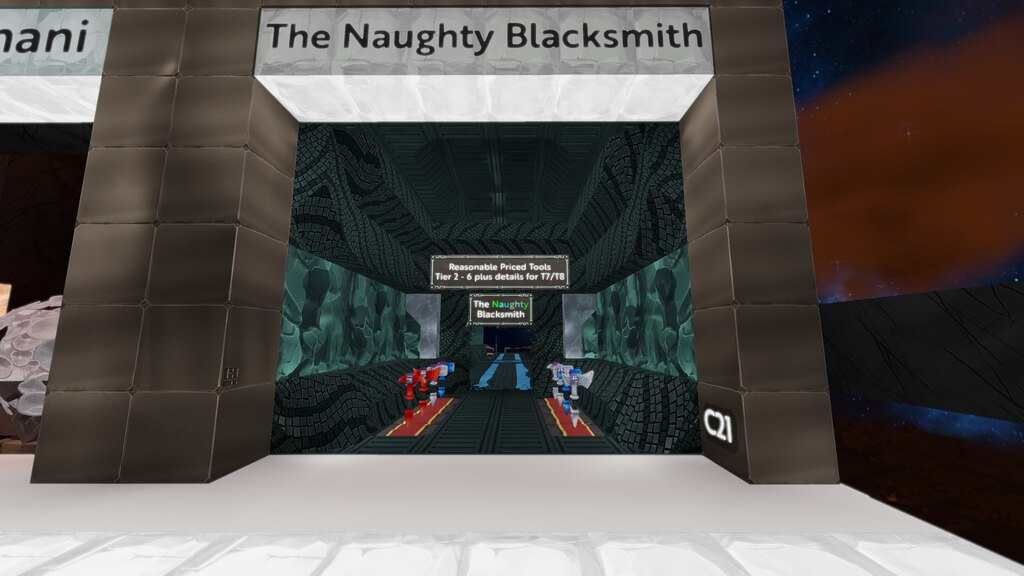 nice if ya ever need a batch off founder totems crafted give me a shout they also nice thing to forge with
@Parnwig Can you do the swap fast?
@scavenger want a spot and will take yours once you leave it.
Moved over now! Come buy sweet paints everyone! Only 30 shop stands to make browsing simple. Full showroom of all 255 colors on 5 different blocks to see what it will look like in your build
I am missing Nova Golda Market there tho! Not good!
BTW, is there a mall/markets area at every hub or only at the main hub?
Most portals are located on main hub, and as the 3 hubs are connected it doesn't make sense to replicate portals.
Both in USE and USW there are free portals available, some are already taken, and there is even room for more.
If you want to connect check if there is any portal that fits you else I can make you one.
Hmm yeah well, Nova Golda Market is in the EU, so the difference would be 7 or 3 oort shards per hour