we need a permisson to let rnd visitor brake exaktly on block

Ah I'm a dummy, didn't consider that visitors can't break the stone. Maybe if you can descend to the bottom slab quick enough it won't zap your head?
its dmg over time so yes and the coil dont take so many wear from it
@Jeffrotheswell - that's a great idea!
@scrufola - hahaha ballz
Yup it's not useful very often, but when it is… It's really useful (the spark link one whilst mining for example). I also use it very often when I miss a grapple, falling off of DK Mall. Just dig a little hole in the ground and boom, I'm in someone's shop

@Alucard2150 - I built one with a coil breaking the block (so people with only 'use' permissions can use it) but I ran into the problem of taking damage from the coil, as the coil dmg is done periodically so you could enter it a split second before the next tick of dmg and possibly die if you have low health.
The way to make it work would be to only repair the coil so it broke after break the block, meaning it would be broken when you enter the Surface Bumper, but then all it takes is for someone to come and repair it too much and the next person will take damage

So I'm still working on that problem lol
@DutchOfSorissi Thank you Dutch! Yeh I can see that working out really well

I don't know the technical reasoning to why you get bumped to the highest possible point, thats one for the devs. But I'm guessing it's some sort of failsafe? I just work with what I'm given
The trouble with having a coil break it, is that the coil will always be damaging an area in which your body needs to be, as the block needs to be created 'inside' your collision box. But I'm sure there is a way to make this usable without build permissions, just gotta find it

nice job. Imma use won in my underwa— Never mind!
What's going on there? Not sure what you beveled, and how you're standing there in front of the lava. Can a visitor do whatever you did?
Does it still bump you up and 100% not push you out?
yes it works but only with the bevel chisel
squard bumps you in the font like fully flat chiselt
Sorry I'm very tired
I'm struggling to understand from that image how you dont take damage from entering the space in which the block appears?
Oh I see so you walk into it slowly? As if you ran into it you'd get hit by the beam?
yes because you start to swim than
Ah nice, thats a cool work around!

Ohh I see, the first pic was hard to see what part was beveled. I'm not home rn or I'd visit. I love how you locked in on the concept then immediately moved to making it look cool- my kind of builder

I've completely rebuilt it. It's narrower now.
Most of it can be hidden in the floor (must be 2 thick) and behind a wall (4 thick or 3 with placing the lava after all is completet and sealed)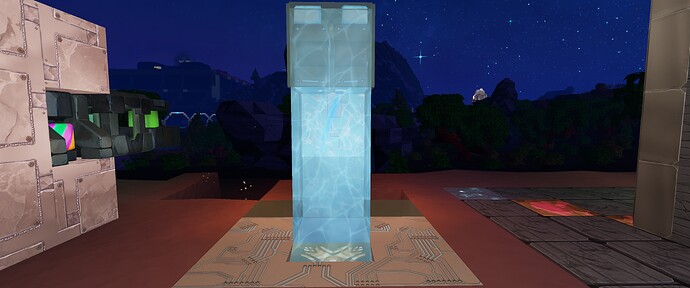 only important thing is the cannal for lava(through the sand here) or the machine will be destroyed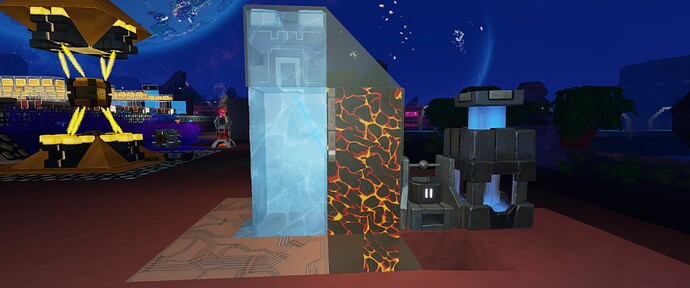 Absolutely genius. Will 100% use this in some of my builds
This could be used for a skyscraper as an elevator!