Howdy,
We have finally got the centraforge going strong and achieved our dream shop specializing in golden fists. it is aptly named 'The Golden Fist' (previously known as Golem). Accessed from the Grovidas Te Portal Seekers hub on the North side. To mark the opening we have put 200k in the buy baskets (need more spitter eyes, paying 100c, buying 500). We have good golden fists for low level players too (as low as 500c) and the 'Gold Standard' of golden fists for the high level players (damage, crit, range 7000c) as well as other battle-oriented items. We really enjoy hunting and want to spread the love of war. Pair one with your slingbow to optimize your fighting style.
The Traveler's Fist is one of two weapons in the game and is worthy of more attention. It shoots perfectly straight and can get great range and damage. I can snipe road runners before they see me, one-hit T6 mighty cuttletrunks from 30 blocks away, mine gleam, wood, foliage, and blocks on my mega-builds from afar. All for a cheaper price than the forged slingbows (which are also great, i prefer the shottys).
Without further ado, i present. The Golden Fist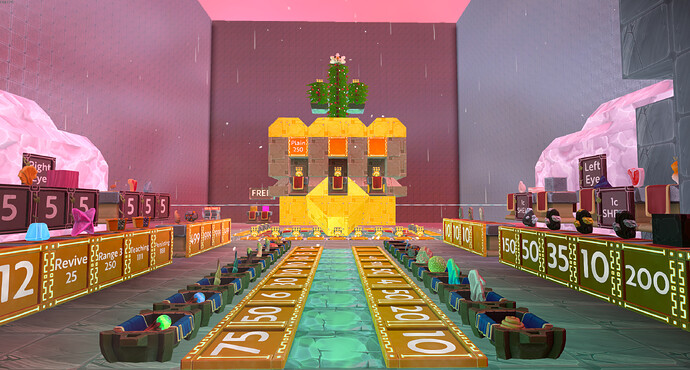 Items
Selling
Refined Coal 200c (coal prices based on spark value)
Shimmering Orbs 75c
Ancient Vital Essence 1c
Revive Augments 50c
Persisting Pie 888c
Teaching Pies 999c
All the fists! 500c to 7000c
Plain fists 250c (if you want to forge your own)
Buying
Spitter Eyes 100
Spicy Beans 20
Salpetre Frags 50c
Free Items
Growth
Foliage
And much more. We'll add some slingbows of all gem types (with a cool statue) soon once we perfect their forging!
Thanks for reading and feel free to hit us up if we're on.