Right. i have been thinking about this for some time and thought i should throw it out there.
Titans will be a great part of the game, and are a necessary to progress through tiers (as of now) which means that there are great debate on how it should be done, especially after the latest survey, some of us wants to have an epic boss battle that will be insane even for the best while others want it to be soloable because they cant be bothered to group up with people.
i made a talk about titans a long time ago and i kinda stand with it,
https://forum.oortonline.com/t/titans-in-oort-online/67
but this is somewhat more specific which is why i keep it in a post for itself:
This post is a suggestion to make sure a titan is not just a titan, meaning if you have seen one you have seen them all, which seems to be a bit of the idea by the devs judging by the art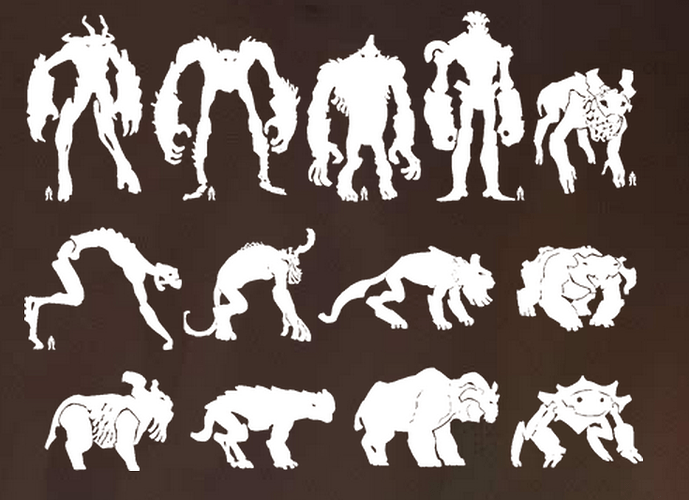 The suggestion is that the titans could be defined as a type and a ''class''
For the types first, i think they should be split in 3-4 which could easily be expended and have different purposes
Giant: Slightly smaller than a titan, is usually found wandering around in certain areas and killing everything in its path, it is not nearly as powerful as a fullgrown titan so it can be taken down by 1 really good player or 2 decent players working together
Guardians: These are the titans made by the ancient oort people to protect their temples and treasures, will wonder around an oort temple and attack anybody who gets too close, will take 5 good people working together to tear it down, minor mistakes can happen but make too many and you will get killed
Ancients: Ancients are the most powerful of the titans made by the ancient oort people, they are so strong that the Oort deemed them a danger and sealed them deep within caves found around the worlds, these are the Raidboss titans who will take 10 really good people working together many many attempts to kill, 1 mistake and you are gone, only for the truly hardcore who seeks a good challenge, on the other hand the reward dropped is worth it.
then you could add more depending on how you want it, there was talk of making a titan like a siege fight so maybe siege titans, the possibilies are endless.
Now for the ''classes'' of titans, i think titans should be different to fight and again not just making a titan as a titan, even within the ''classes'' they are different, but its just so you can categorize the titan and get a somewhat idea of how the fight is gonna go, for now i thought of 3 classes.
Brute: the big and heavy titans, pretty slow but have a ton of health and hits hard as hell. these are the guys when they hit the ground they just make a crater, do not get hit
Agile: The smaller titans which are not quite as heavy, dont have as much hp or raw damage, but they attacks and moves much faster than a brute
Magus: These have ranged attacks and are one with the magic used to create them, they will not enter direct combat but use abilities and special attacks,
And then within these there are differences, you might have a tank brute where you need to attack certain areas because he is so armored and a ground brute which might focus on making rifts in the gound, then there could be a stalked agile which can go invisible, and a speedster titan that cant but run alot faster, Elemental magus that will shoot flaming orbs of fire and a Necromagus who will make minions to fight for him. and so on
I would imagine only the Guardian titan dropped what was needed to go up a tier

well those are just random thoughs and might not be possible, but i suspect it would be good for those who keeps saying ''i want to solo a titan'' while keeping something do to fight for groups who want a real challenge