I have been wanting to say something about this for a while. But I refrained cause I thought that maybe it wasn't really as bad as I was thinking it was. Maybe it was just in my head. But after some data was shared by some players about the number of exoworlds we have seen, and the number of colors we still have to see, I feel like something should be said.
I tried going back to the threads that were made by the devs in the past that talked about the exoworlds and what they are for and what they would provide.
The same paragraph was used a couple times by @James :
"Special Worlds: Exoworlds will shortly start visiting the Boundless universe. These are worlds that enter the universe temporarily, orbiting around another world, before vanishing never to be seen again. Expect a constant stream of new worlds to explore, filled with resources to harvest, unique colours to snag, and a playground for future features. There'll be no regen or beacons on these worlds so once they're exhausted you'll be ready for another. Exoworlds will also include the first Level 7+ Rift, Darkmatter and Blink worlds. A new challenge awaits, but only until you or they expire…"
I remember when they started talking about exoworlds. I was so psyched about the idea of getting access to so much new colors. And we got some. More in the beginning I guess. I feel like in the past couple months though we have gotten a lot of repeat colors and hardly ever new ones. We have had something like 190 exoworlds. And we have 50 permanent planets. Is it normal that we still have 194 colors of metamorphic rocks that we haven't seen? Now, I know, I know, rocks can be blocked changed, they can be turned to gravel, etc. What about Lustrous wood then? We've only seen 54 different colors of lustrous wood. Now I know wood and rocks are paintable.
I understand that some exoworlds atmospheres come with a certain palette of colors. Let's take umbris planet, for example. We know that these planets will be red-orange ish. But do they have to always have the same colors? If you take a look at the different Umbris exo that we have had, you will see that we have had at least 6 planets with the exact same rock colors (Dark red igneous rocks, Night orange metamorphic rocks and hot cherry sedimentary rocks). I looked (I think) at all the wiki post that were made on the forum for the umbris exo worlds, and compile the info I saw there and found that 13 of them had Night orange as their metamorphic rocks color. And we had a total of 5 different colors of metamorphic rocks on these exos.
(see here the table I made)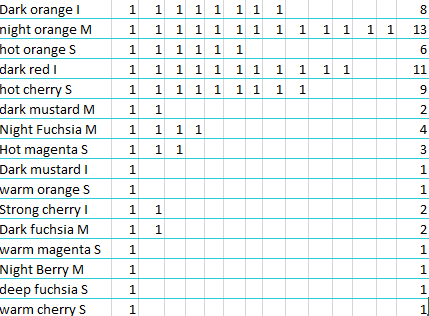 Let me tell you that now when I see that there is a new Umbris exo, I have 0 hope of getting a new color. Now you might ask yourself : are there really so little red-orange ish colors in the 255 colors of the game? I would say there are about 30 colors that are darker reds/oranges/fuchsia/magenta/berry.
I am not a developer. I know very little about programming and I can only guess how hard it must be to make the exoworlds happen. But if we now get the ability to chose colors for Sovereign worlds, isn't it safe to assume that the dev team would/should be able to decide colors for some of the exoworlds? And maybe more thought should be put into the colors that we get from them?
I must not be the only player that gets frustrated when I see new exos with no or little new colors on them. I know there are others that feel the same way.
I would also like to know if the algorythm or whatever is used to generate the exoworlds is working as intended by the dev team. Or do you also see it as a problem that, after a total of let's say 240 planets (permanent and exoworlds together), so many colors still have not been seen anywhere?