WTS Pies: teaching 599c/ea (200 available), persisting 549c/ea (50 available)
I have three separate friends on Raxxa who sell teaching pies for < 350c. Persisting ~ 100c.
Yeah, you might like to notice there are shops selling way cheaper - I am used to buying those for 300-350 (teaching) and 150ish the persisting.
I dunno what kind of mats is behind those prices, but that's the reality.
Yeah. I'm not sure if it's allowed to say on trading posts, but this is a pretty horrible deal. I feel like I'm not offering a great deal and even I'm selling them for 500c. This deal isn't even an average deal. Persisting pies go for 98c and Teaching Pies for for 342c on average right now apparently.
I suppose it's ok - I see it happening sometime, when the offered deals are really expensive (not competitive you might say).
You never know, the posting person might not be aware of prices on market and might want to get the feedback.
It's still up to them to keep their prices (I don't think anyone is giving "that's expensive" feedback to trick or pressure sellers into selling cheaper).
I wasnt aware about those prices. Most malls I visited were empty; I guess I should be buying instead of selling with these prices. Especially the persisting, why go the effort to make them when you can buy them so cheap. Now just need to find shops that actually has some wares.
wow, how do they get all that data?? Is it being supplied publicly by the game?
Yes, there is an API for the shopping scanner that can be accessed (with permission from the Devs) and then @Mayumichi is a magician

That is very neat. I'll definitely start using that website from now on!
Magician indeed, it's very fast to load the pricings and super easy to select an item and very nice columns for the data. Im astonished how well working that site is, what pro job well done
Yes, Mayu is amazing for sure… Also a huge fan of Mayu's pricer
https://boundless.mayumi.fi/recipes/
It is also linked to the shopping scanner system, so you can set prices for raw materials based on the market and it will show you what the cost to make them is (minus spark and your own time of course).
Love the name too… BUTT
Using persisting pies as an example, purely for a learning experience…now of course market prices vary quickly for materials, but you can use it to help determine if its better to just buy the final item or if you want to make them yourself.
As mentioned before, the single price does not take into account the time it takes you to gather the materials or the spark involved, but it can give you an idea of the base cost and then you can use that to determine your selling cost to pay for your own time and spark.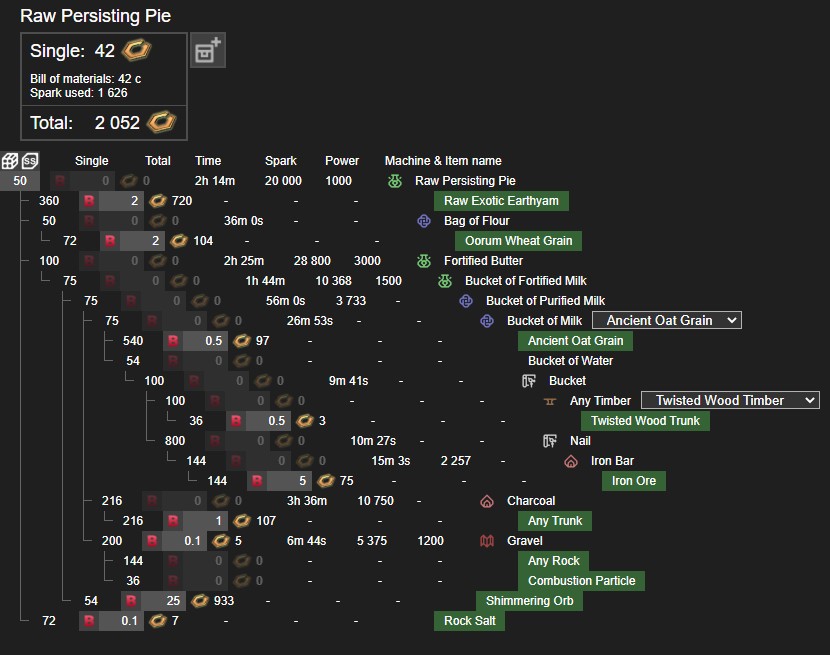 It should take spark in to account if you set a price for it (in the spark setup window, top right), if it doesn't there's a bug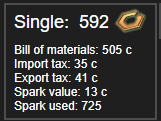 The crafting calculator is for single crafts though, right? Doesn't take into account the 28% discount for mass?
It only uses mass craft values actually, there was talk to make it configurable to use single/bulk too, but it was considered useless as nobody involved was single crafting for sale. Maybe I should make it configurable just to make it more clear it's using mass crafts

Please do. I would very much appreciate that as I tried to make it single craft price before and was confused.