The Storis II Welcome Center is beginning to schedule Hunts geared towards beginners.
These hunts are casual, and slower than other hunts, and always on T3 or T4 planets for one hour. We have a board up to track scheduled hunts throughout the week and would love to HIRE HUNT LEADERS to fill out the days. willing to pay 5,000c for you to lead a hunt. You simply must message me your time you want to schedule, and also message me AT the time of the hunt to verify for payment. Please give at least 3 days notice. If your interested, but have never led a hunt before, no worries, we can teach you.
Also, I would like to know of any other regularly scheduled hunts by other guilds out there. I know Of Sasquatch's (my go-to for hunts) but I would also like to call-out other regular hunts for the general public to know. Im happy to say the Welcome Center has a successful start, and has seen LOTS of players, new and old, filter through here, and I know theres a few other regular hunts, im just not sure when they are.
Thanks for working with me for the betterment of our community!
schedule as of July 13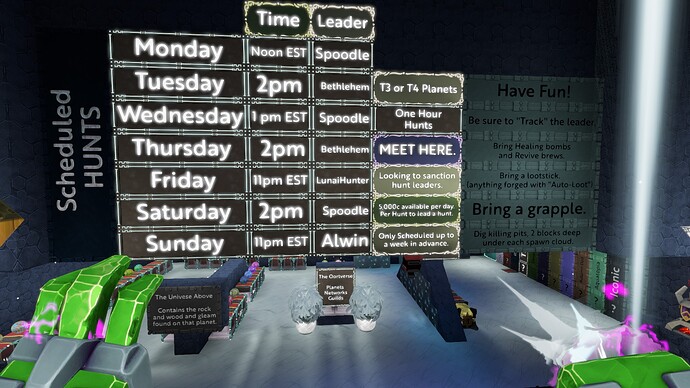 This is finally coming to fruition…

Access through DK Hops Lacuna*
TNT Storis II
Gaurdian Storis II
and others…