I purchased 45 bulk, quirk, T6 AoE diamond speed hammers to get realistic numbers for a novice miner. I did not strip mine, I spammed around in the bright areas of the map. After filling my inventory I would sanctum then warp to a beacon close to my mining area to deposit all items. I started on Mkrib then moved to Kol Huroo (my preferred planet for Diamonds due to rock colors). My character had max mining specs with durability epic, which requires 65-85 skill points depending on the subjectivity of "max". I have no guild buffs.
Summary:
Profit: 1,502,480
Average Profit per Hammer: 33,380
Levels Gained: 21
Time Elapsed: 9 hours 40 mins
Profit per Hour: 150k+
XP / HR: 420k+
Costs per actual use.
Revenue from active BUTT pricing.
Total Cost: 271,800
Average Cost per Hammer: 6,040
Speed Brews: 32 ea @ 525 ea = 16,800
Starberry Pies: ~40* included with hammers
Hammers(quirk): 45 @ 5,555 ea = 250,000
Warps: ~50 @ 100 ea = 5,000
Beacon, fuel, storage, lootstick, atlas ~4,000 (excluded)
Total Revenue: 1,774,280
Average Revenue per Hammer: 39,420
Rough Diamond: 13,673 @ 55 ea = 752,015
Hard Coal: 26,339 @ 20 ea = 526,780
Medium Coal: 14,310 @ 6 ea = 85,860
Iron Ore: 15,293 @ 7.5 ea = 114,697
Gold Ore: 6,712 @ 25 ea = 167,800
Titanium Ore: 10,955 @ 10 ea = 109,550
Opal: 1,598 @ 11 ea = 17,578
Fragments / Misc: ~20k (excluded)
Deaths:
3 Lava
2 Creatures
1 Fall Damage
1 Ran into a murky portal with speed brew and bouncy feet
27 Hammers on Malurialakrib (MkRib): one inventory is not shown in the reclaim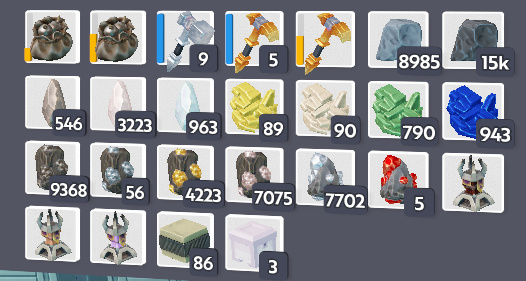 7894 Rough Diamonds = 434k
15.7k Hard Coal = 314k
9,167 Med Coal = 55k
9,777 Iron = 73.3k
4,326 Gold = 108.2k
7,257 Titanium = 72.5k
1,057,000 coin
292 diamonds per hammer average
287K Night Green Metamorphic Rock
31k Dark Green Igneous Rock
18k Hot Moss Sedimentary Rock
4k Dark Green Gravel
6.8k Ashen Yellow Sand
18 Hammers on Kol Huroo: Only 17.6 hammers were used for gathering materials here - I used 800 / 2,000 durability clearing a beacon.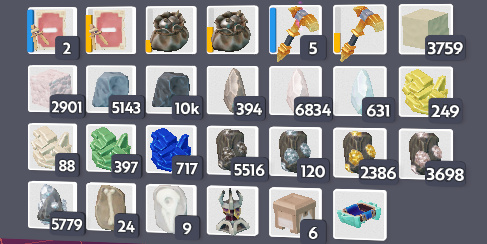 5,779 Rough Diamonds = 317.8k
10.6k Hard Coal = 210k
5,143 Med Coal = 30.9k
5,516 Iron = 41.3k
2,386 Gold = 59.7k
3,698 Titanium = 37k
696,700 coin
321-328 diamonds per hammer average
137k Pale Berry Metamorphic Rock
90k Stark Orange Igneous Rock
13k Luminous Red Sedimentary Rock
2.9k Cool Red Gravel
3.7k Pale Tan Sand
Much thanks to EZPZ (@whitelet & @KArios)for the hammers and purchasing most of the resources | I am sure all of the coin will end up back on your shop stands!
The Titanium Ore and most of the Medium Coal are still up for hand trade if anyone wants bulk, else I will be selling around the worlds when I see a few stands full of coin! Also over half a million rocks if anyone is interested for whatever reason

The diamond variance is most likely due to people previously mining in the area. I did not see any holes, however did find that MkRib had only around 3-5 diamonds per vein compared to Kol Huroo's 5-7 diamonds per vein. MkRib had (much) less lava to navigate around.