Hi all,
this post is an extension to this Post. You may want to skim over it at first.
As we talked about Items and Stats i mentioned it would be good if every Tier has it's unique stats. In this way no material will lose it's value in the end-game because, if you like to have soome specific stats, you need to use this material (it can't be 100% replaced by an other or only with other side-effects).
Let me show you an example of a "one-handed-sword".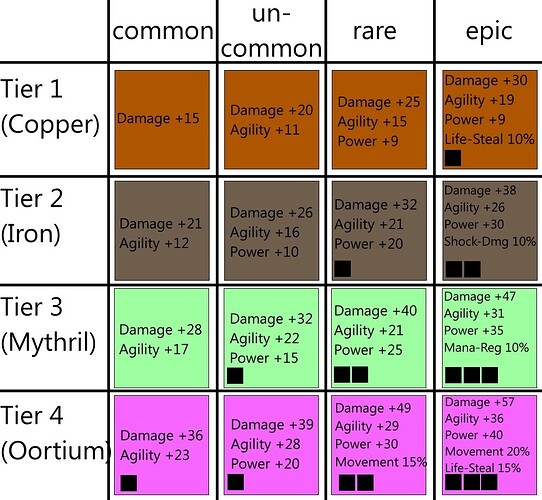 if you craft the "one-handed-sword" you see, that every Tier has it's unique stat at the "epic" stage. You can also see, the higher the tier and the meterial quality / stage is, the more rune slots you gain (black squares). Also runes have the unique stats as "epic" like shown in the next example (i've ommited a few values …).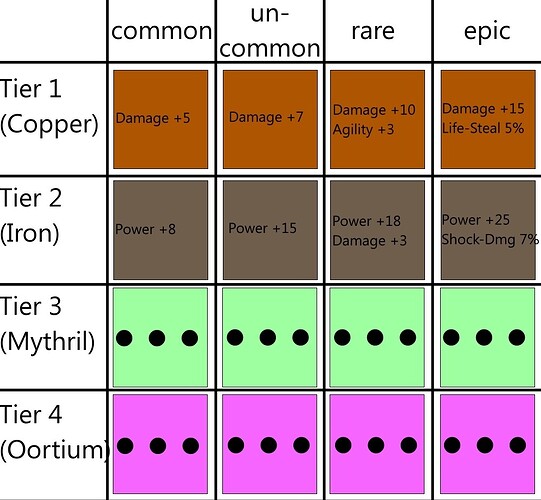 So if you like too have Mana-Regeneration + Life-Steal you need to craft a Mythrilium-One-Handed-Sword and equip it with a "epic-copper-rune". In this example, demanding on your personal game-play, every Tier is used for some sort of weapon, rune or helpfull item (even in the end-game).
this could prevent the econemy from becoming totally fissured in high-price and low-price materials (like seen in guild wars 2 befor ascened items).
what do you guys think about it ?