So, for the first time ever today, I found (and mined!) some Topaz, the first gem I ever got.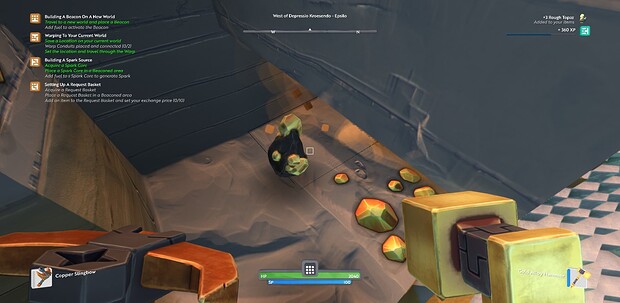 I found these thanks to the info available around the forums on what worlds and altitudes gems can be found. However, I find it a bit awkward to have to travel so many worlds just to find a few gems, mostly because my latency is best on the EU worlds…

If that info didn't exist I wouldn't ever have found any at all.
I did try to look around in Munteen, as it a much better location for me, but gave up because it was so awkward, even with high jump and a grapple, to get to the altitude that Amethyst supposedly occurs at. Maybe it was right under my nose but I did mine there for a while and couldn't find any; the disparity on where gems occur and the lack of clues in-game for where it can be encountered make it quite a frustrating experience to even go look for any… I have looked in Vulpto a little bit in the past, but don't remember seeing any in the caves there.
In the end, I did get 15 Topaz ore, which is more than 0, but I think I was really lucky because I found it all in quick succession and then continued mining the mountain for (I think?) hours and didn't have any more turn up. I did mine almost every seam of any other material I found as well.
I made about 100 Iron and 300 Copper, as well as 400 Soft and 200 Medium coals - and an assortment of Tech stuff.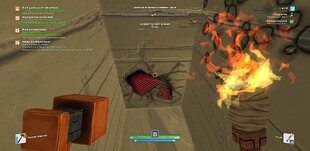 Does this proportion seem right to others? What are your experiences with looking for gems? I'm especially interested in knowing what other people who have very few gems have gone through to get them!
Finally, one thing I've been curious about but not really asked anyone, is how anyone has enough gems of any kind to use for building?