Videos playlist of all Buildings

Vote Now
It's now time to vote on the build you like the most! You may vote on the build you like most or on your friends build or the build you hate. you may also vote on your own building I know this may be unfair but this is just one Award. The second award is judged by a few selected players that going more in-depth into the building designs so I hope this will give everyone a good chance to win an award.
The winners will be announced and the Participating Reward will be handed out during the Prize Ceremony: Sunday, May 27 19:00 (UTC+00) at Hunters Courtyard. be sure to join!
Find the Competition Area:
Go to hunters courtyard, look for the Building competition portal
Follow this link to To the google form to vote
(you have to login in with a google account to ensure the vote fair as possible, but I don't collect any emails.)
https://docs.google.com/forms/d/e/1FAIpQLSc9BXT_kSKmutYJaB6MkucJjFsZLDhjGB3dcSfZnvdSp3ECkw/viewform?usp=sf_link
Building Competition info
With all coin generated by the Hunters Square and the Portal gateways, we can now start a building competition with 750 000 coins in total prize. There are 2 ways to win a price. The first way is by getting the votes of the judges and the number of points they give you for the requirements. The second way is to win the votes of the community (the boundless players). Here for there will be voting system will be made on the boundless forum. There are 3 prices receivable from the judges and 10 from the player's vote.
Go to Hunters Courtyard and you will find a portal to the Competition.
Read more on the website.
Watch the introduction video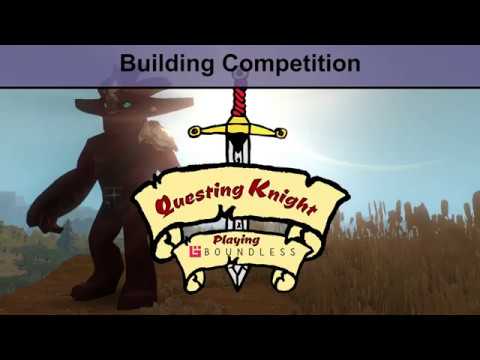 Updated the thread with Images of the builds so far
01. HyperR New images May 4
Summary
03. 142857 New images May 4
Summary
04. Freezyloon New images May11
Summary
05. RedUn0 New images May 4
Summary
06. Acquisitions New images May 11
Summary
07. Loadkill New images May 11
Summary
08. Dunedragon New images May 11
Summary
09. Bunky8604 New images May 6
Summary
10. Dumaru New images May 6
Summary
11. Warast New images May 4
Summary
14. Liveey New images May 11
Summary
15. Swede New images May 11
Summary
16. ATownDowner
17. Beaver New images May 11
Summary
18. Cave New images May 4
Summary
19. FDSA New images May 11
Summary
21. 2ofDiamonds New images May 11
Summary
22. Grovinski New images May 11
Summary
24. Zcrya New images May 11
Summary
26. Grugling New images May 11
Summary
28. Prome3us New images May 11
Summary