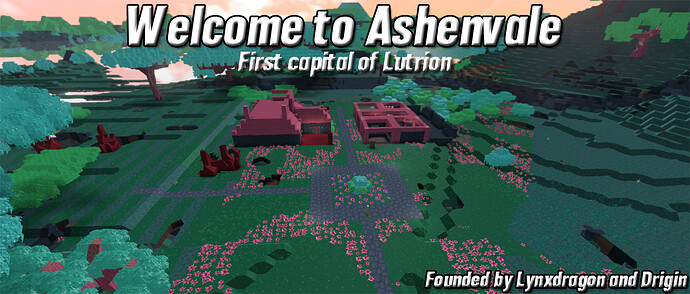 Welcome to Ashenvale; the capital of Lutrion from day 1 invites you come settle with us. Founded by @Lynxdragon and @Drigin1 from New Zealand.
Ashenvale's Town Centre is located at 924N -1692E on Lutrion. To get to Lutrion as a new player, "Choose Australia → Hostile World" when starting the game. Else to our North East is the Portal Seekers hub. You can read more about the portal seekers by clicking here. You can also get here directly from the Finata Aqua Ultima Portal Hub.
The settlement rules are simple;
Please be respectful of other peoples builds regarding space. Please claim plots you wish to remain to compliment your build or plan to build on.
Please be respectful of the collective city, Builds should be in good taste and not be an eyesore. So no towers made from crafting tables, memes, sky paths, massive holes etc. Temporary builds are fine but please try keep things tidy.
Please request roads when needed, Else keep roads in the same style. Please give road plots to Lynxdragon or Drigin to help expand the city, this is due to prestige changes. Any alterations to the roads for your builds just ask!
Please keep portals away from the main roads so they do not render. This is to be respectful to lower spec players.
Please if in doubt, post here or speak to Lynxdragon or Drigin if you have any questions.
Were all very much looking forward to seeing what everyone comes and builds!
Regarding this thread;
You may post updates on your builds and shops here. Please keep them to one post a day for shops.
Thanks!