Long time no updates from me, but don't worry - I've been busy.
I thought I'd give you all a little preview of what I've been doing for the past few weeks. I've been making new doors! The doors currently in the game are some of the oldest assets we have, they're not tintable, and they don't quite fit with the look of everything else anymore. So, we're making some new ones. Lots of new ones.
@Minyi drew up the set of excellent concepts that I've been using: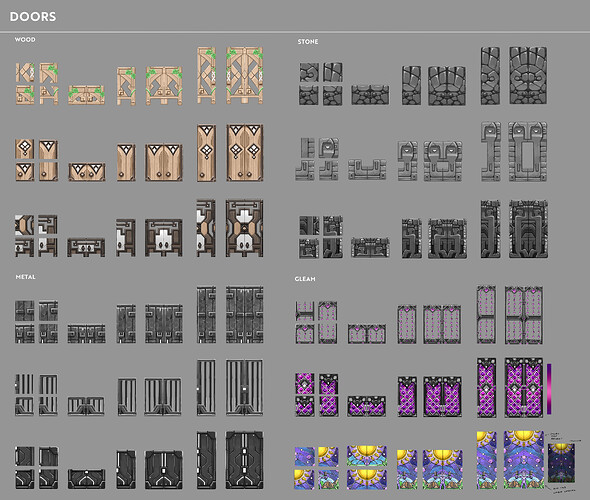 As you can see, you'll be able to craft doors from wood, stone, metal and gleam - all of them will take their primary tint from the colour of the material you use, of course, and not only that but you'll have three different choices of design per material type! They'll work just like the current doors so you can make little one-block doors or much taller ones(the middle 1/3rd tiles!) and of course double doors.
So far, I've just today finished up work on the Wood and Stone doors. They're not ready to go live yet - I can't say when that will be, but I have to make all the metal and gleam ones first so it'll be a little while longer

- but here's a preview: