This update is accessible via the Steam Beta "Testing" release of Boundless.
Today we're releasing an update to the Crafting system in Boundless. This release is an initial version and work in progress. All feedback on the system and GUI is encouraged. The Crafting system contains an automatically unlocked subset of recipes. In the future recipes will be unlocked (and discovered) during Character Progression.
The release also contains a first pass Dual Wielding interface and GUI. Again - it's early and not polished. Feedback on the concept and implementation is requested.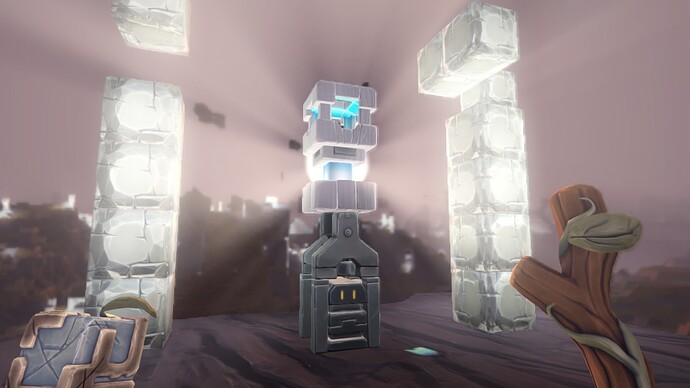 Release Notes:
Each tool has blocks that it can and cannot break.
Added Machine Crafting (Crafting Table, Workbench, Compactor, Mixer, Furnace, etc).
Dual wielding. Characters can now wield tools and weapons in both hands. Q + LMB/RMB to bind selections and to select using the new UI radials. ALT + mouse wheel/number key to use old style select with left hand.
Added meshes for 'totem' and 'cube light'
Cube light tool can be used to get a temporary light source that will flicker out before being reactivated.
Left and right hand, as part of dual wielding are now separate light sources (hold a red gleam in your left, and a blue gleam in your right etc).
Added options to toggle VSync and select a target framerate under graphics options. Target framerates available include 30, 60, default (matches display refresh rate) and unlimited. When selecting unlimited (or any other rate above the display refresh rate) with VSync enabled you will still be limited to VSync.
Replaced placeholder flora blocks with flora meshes.
Inventory capacity has increased to 32 slots, however items can no longer be stored in the quick use.
Added ancient technology, coal, fossil, gem and ore drops.
Ported day-night cycle.
Fixed world regeneration not recording changes in various cases (liquid sim) leading to permanent changes in the world
Fixed crash in worldbuilder preventing exposing parts in custom nodes.
Allow worldbuilder to use more varied generationSize's in 2D-only visualisations (including say, a full 288 set of chunks for a world).
Fixed crash in worldbuilder when destroying a node that is currently being linked from in the UI.
Fixed god-rays/lens-flare (broken in port to c++)
Resolved Known Issues:
The following items were known issues in previous releases and have now been resolved.
When picking up blocks that have been broken the block automatically goes into the quick use bar. Items in the quick use bar cannot be used for hand crafting and so every picked up block has to be moved into the inventory before it can be used for crafting.
Breaking stone without a tool breaks the block, but nothing is dropped. Breaking it with tools works fine.
No colour highlight shown to indicate beacon area when holding a beacon block.
The inventory screen is limited to 32 slots but no error message is displayed when adding more than 32 items.
Known Issues:
The following items are known issues in this release.
Some of the items displayed in the inventory screen are not positioned correctly.
Some of the items are not positioned in the hand correctly when the players are seen in 3rd person view.
Z-fighting with some items (workbench and other machines) when placed underwater.
Some meshes missing from the game (machine crates, plinth, glue, etc).
Cannot 'drop' items from [Workbench Ingredients] and [Completed Items] lists.
Door tiling is currently broken.
Iron Fire Pit missing texture.
Stone Crucible missing the gradient.
The recipes are not final.
Beacons and locks cannot be shared amongst friends as the friend's token cannot be added to beacons.