We just had the best delivery to Boundless HQ! Thank you to @Tagris and our wonderful community for the delicious treats!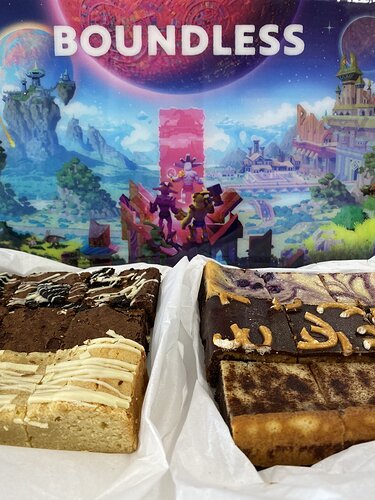 @Tagris Aw nice one

But check your DMs for my address…

That is so awesome!!

Great work @Tagris!!



What a lovely idea!

anything to show dev appreciation is a winner but this goes one step further!
Oh yummy, yummy! Enjoy! Well deserved!
Of course they are secretly laced with some uppity drugs so you guys keep on going and going and deliver even more lovely goodies to us!
Really tempted to make some chocolate totems now

lets fatten the devs up!
Nice!!

I don't think cookies or such from me would probably work well with international shipping, but will happily chip in via gofundme or PayPal or whatever a bit for any dev treats any of you have in the works!

Aren't you supposed to keep the devs hungry, so they keep working?

I can't wait to hear who got the "special" treat! Lol.

We also take Oortys

No but the salted caramel brownies were delicious

Can't work hard on an empty stomach! At least that is the philosophy of the Boundless studio!

I wish oortys were sold in stores or you guys had a merch store
I am so glad you enjoyed them

I'd get a pair of grapples for sure
This is the sort of wholesome content I like to see! Very nice gesture, @Tagris - your generosity is boundless.
The whole team did! Thanks again