Also they don't call me lemoncakes for nothing!

It's not my fault you moved

We'll just have to sort out a postal order for you!
You know Santa is real right hehe
also when do you all finish work there??

whats your address then

Most of us finish working from the office next Friday (20th)

yup you maybe right there


I thought she meant what time do you close shop so she can take you out for a round

Trust me if i could i would take them all out for a drink

Sadly guildford isn't really on my bucket list haha. But maybe it should be

not sure it's on anyones to be honest

though it's a mecca of culture and learning compared to haywards heath, my current abode (though moving in 2 weeks…woot! not to guildford though…)
Those comments keep getting funnier thanks for the laughs
. Plus, no wonder shes called lemoncakes
.
Hey leave Leah alone I'm with her I love lemon cake lemon cookies etc
Thank you for all our lovely treats @CrazyClaws!
We can't wait to get stuck in and have an afternoon hot chocolate!

!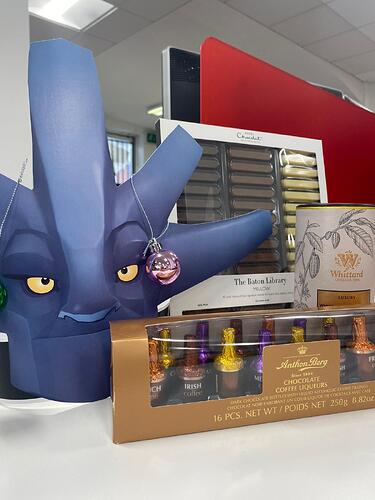 That is so awesome, @CrazyClaws!

And those chocolate coffee liqueurs really are SO delicious!

I see you haven't encountered the NMS fanbase yet.

But don't worry - at the rate Boundless is going, I think we're going to be caught up to them pretty quickly here!

You said you all drink coffee hehe…Coffee treats with a twist…who isn't driving
So glad it arrived safe now sit back and enjoy

Merry Christmas Boundless
Love Fiesty
Ummm how do I get that oort head?
By visiting the Boundless HQ! Unfortunately they don't travel very well