This last week, we finally released the first pass Dual Wielding and Machine Crafting. It took a while to initially balance them to make them playable. As this is the 'first pass' game balance, changes will be made based on player feedback so send it our way. We will be spending the rest of the summer making tweaks and changes to the systems.
The next thing in the pipeline for release is the World Wrapping. We are hoping to release it next week.
Next month we are planning to release the Trading Plinths and Direct Trading. We're also hoping to squeeze out an early preview of player progression.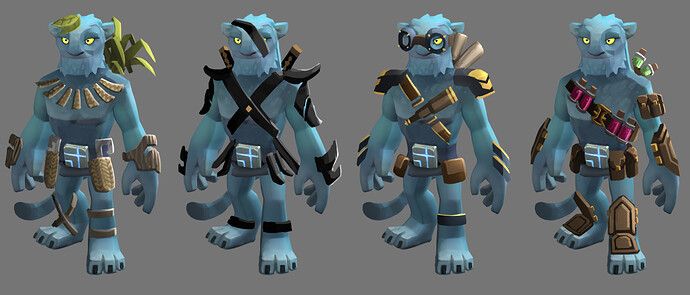 Go team!
---
Code
There been quite a bit of work on getting everything ready and fixing issues for the release.
The trading, buying and selling screens are progressing along with the backend to support it. The GUI has been optimized to make the screens pop up more quickly. For held items and the placement of items in storage new locators are being added to the tools pipeline and used in game.
The World Wrapping code in now in testing with it implemented for all the current game features. Some tidying up of colour use in game has been completed. For the servers time of day logic has been reworked to be more robust and allows us to move instances between physical machines. Work on the back end of texture array support has been started.
We are also looking at some different server hosting options.
Design
This week we've had a new member join the team – Rob is going to be doing the GUI and HUD for Boundless. So we've been going through all of Ben's work, and the current state of the design and implementation of that stuff. The first big task for Rob has been working on the interface for the Buying and Selling Plinths, which Marc has been implementing. There are also some other questions about how we are going to represent, select and move Coin around in varying amounts.
Preparing for the release, and fixing bugs has also taken up some time. There was quite a lot of crafting data wrangling to get the recipes ready. It's nice to see that out in one of the beta branches.
Art
The art team has been supporting the Dual Wielding and Machine Crafting.
We've spent time exploring options for supporting a wide range of aspect rations for the GUI, HUD and held item positions and animations, including: 4:3, 16:10, 16:9, 21:9, and 3x16:9 displays (sometimes referred to as 3x1). The screen setup will be flexible and responsive between these ratios, but it's good to know exactly what will happen at these common fullscreen aspect ratios.
Concepting:
We developed and shared the Wearables concept exploration and …
We've also been working on a Fast Flyer creature and progression concepts and …
… the Gremlin creature concept.
Assets:
Modelling a blockout mesh for the Hunter stage 1 so this can go to rigging then animation.
Testing new lance and slingbow models in game.
Cuttletrunk locomotion animation.
Noise
We have the first 3 tracks in the game and will unlock these soon for everyone to checkout

.
---
A bit late, a bit short, and a bit rushed! Releasing is a huge effort and distraction!