Hey Everyone,
Today, Thursday the 16th of August 2018 is the big day - the Launch Universe will be released! There'll be a little downtime while we update the game - but after that, you'll be in the Boundless universe we're launching with. This means that our dedicated Early Access backers will be amongst the first explorers to head into this brand new Boundless universe. There's never been a better time to make your mark on the world.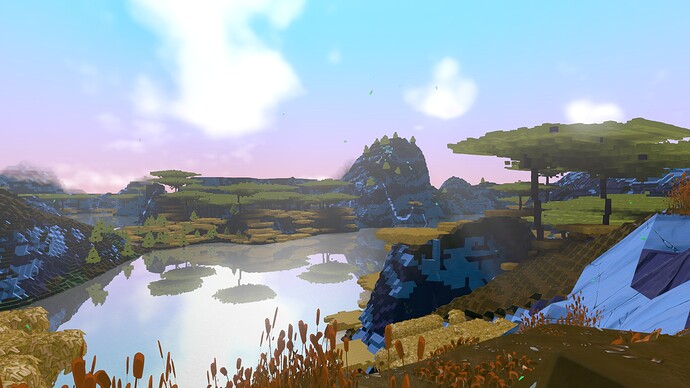 Let's go over just what this all means.
From today, everything you build, craft, mine, forge, and discover in Boundless will be ready for our new players at 1.0. The planets are empty and waiting at the moment - so the opportunity is there to claim land, build capital cities, and get your shops set up for launch. Personally, I can't wait to see New Therka Market spring up.
Your characters and skills will all also be reset, so it's a completely fresh start for everyone. It's worth noting that we've not yet enabled everything in the exchange, so you're not able to spend real-world money just yet. That'll be switched on at a later date, before launch to help us to test the system.
Let's go over how the Launch Universe is configured. You'll be pleased to know that we'll be releasing it with an increased number of planets. There will be 8 spawn worlds ready to explore, with many more to discover. As the population of Boundless increases, the universe will expand. The spawn worlds include;
4x Placid Worlds: spawn worlds for players who initially opt out of combat.
4x Temperate Worlds: spawn worlds for players who opt into combat.
More will follow of course, as demand requires - this allows us to configure them better. Once worlds are released they are more or less permanent, so we need to make sure they're just right.
Now, before the new players enter at 1.0, you guys are going to be joined by a select group of press, YouTubers and streamers. We're excited to see the game covered on the big stage, so let's make sure to get the universe looking as amazing as it can. The buildings, cities and stores they encounter will be shared with the world so let's get the world of Boundless looking as good as it can be!
We do have one more small request, where you can all really help us out. We're putting the game out to press and content creators on the understanding that they don't share anything from the new universe before a specific date. It may seem counter-intuitive to some - "why don't these guys want anyone to show off their game!?" - but rest assured it's a perfectly normal part of a game's release.
Trust us, we have a plan!
With that in mind, it would be really great if we could all please refrain from sharing videos, streams, or reviews until the same date, which is 2pm BST on the 28th August 2018. The only exceptions to this are Steam reviews or screenshots, which are very much encouraged. We're going to be adding a reminder to the game just to make sure. Feel free to capture and create beforehand, and have content ready to go, but please refrain from publishing anything before this date. After that, go wild

Thanks everyone, we're honestly so excited to share this exciting next step with you all. Every one of us at Wonderstruck truly appreciates all your brilliant support.
So - as is the tradition, here's the TLDR;
We are releasing the Launch Universe on Thursday the 16th August.
All characters have been reset. It's a fresh start for everyone.
The Launch Universe will include 8 spawn worlds ready to be populated. This will steadily increase.
Please do not share any video or review of the Launch Universe until 2pm BST on Tuesday the 28th August 2018. The only exceptions to this are Steam reviews, which are very much encouraged
The Exchange will not feature the ability to buy cubits straight away. This will be switched on at a later date (TBC)
Right, that's enough from me - there's a whole universe out there waiting to be explored!