Thanks
Thank you everyone who participated and thanks to the judges for taking the time to go through each entry. It's been a long road organising this competition, and I appreciate everyone's help. Congratulations to the winners!!!
Collecting Prizes
If you managed to get a prize position, we have put your reward money into a request basket on your entry plot in front of your artwork. You can open the request basket and type in 0 for the amount to take the money out. Go get your cash!!!
Winners
Top 10: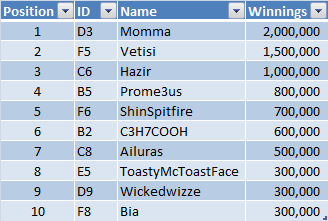 11-30
(These are just in alphabetical order because the prize amount is all the same):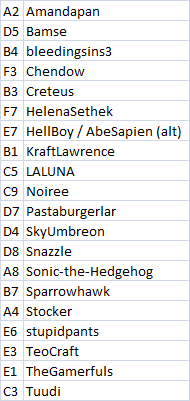 Original Post
Hello boundless citizens,
Portal Seekers has a bunch of footfall coin that we need to give away, and we're hosting a public community building event to do so. ALL of our footfall coin will be put in a prize pool and distributed to the top players in a 2D art themed building competition.
To enter, fill out the application form below and contact Fuzzy#0001 on discord. He will give you permissions to a spot within the competition area. If you are on PC, you can provide your steam ID on the application so fuzzy can friend you and add permissions that way rather than needing to meet up and friend in-game.
The contest area is in Raxxa and accessible from the main platform of the Portal Seekers hub in Raxxa. There is a map here and we'll have signs in Gyosha Ophen leading to the competition to make it obvious.
Feel free to discuss and debate the rules CONSTRUCTIVELY as we want the competition to be fair, but keep in mind it's impossible to make everyone happy so not everyone will have their way

.
Rules/Details
Prize pool is 12 million


See judging details below.

The competition will run from now until Nov 19th

Entries will be accepted until Nov 12th
Judges will then have until Nov 26th to complete their Judging.

Portal Seekers will own all entry plots

This allows us to save the competition area long-term rather than watch it slowly disappear like some past competitions.
Also you only have to spend blocks and don't have to use your plots to enter.
Any footfall gained from the competition goes into the prize pool for future competitions.
You will keep permissions on your plot after the competition. If you use any fancy blocks that you want to take back afterwards you can, but it would be nice if the artwork was left looking nice after the competition if possible.

Entries will be 4x4 plots, so up to 32x32 blocks.

We had many votes for 2x2 but most people voted for 4x4 and higher.
There's no good solution to make everyone happy here. I know some people wanted to have different aspect ratios but we also need to keep things consistent for judging purposes.
The floor is part of the 32 height, so if you need to use it in your image, just take out a few blocks of the floor so you can see it from the judge bridge.

Must have an opaque, non-chiseled background. Cool slate sedimentary stone or black metamorphic stone will be provided on request, or you can make your own background.

Due to the relatively small space between entries, we can't have them interfere with each other. We also can't keep them far enough away from each other to not require a background without an excessive number of plots claimed to prevent people building between entries.
We have some in stock and if we run out we will farm more for anyone who requests.

3 layers maximum including the background.

You can use any blocks for the background, as long as they're opaque. You can make your entire artwork as JUST the background.
This lets you do fancy things with lighting and chiseling while maintaining a mostly 2D entry.
Any layers over the 3 will risk dequalification. We will put up signs if we see infractions and give people plenty of time to fix this.

Must be built at the back of the plot

Furthest away from the judge bridge as possible so the art can be seen clearly.

All blocks permitted.

Any type, any color, you can chisel and light and do what you like. So long as the background layer is opaque.

One entry per human max.

You cannot enter multiple times with alts. We have no real way to enforce this but please be courteous to other entrants.
You can enter as a team but one player must be designated as the leader. That person will receive all prize money and be responsible for dividing any prize money. This keeps the drama away from us and in your team.

If you have a plot with a "D" in it, please leave a 1x2 doorway through the corner of your art by the portal so people can walk through, at least until the competition is almost over.

We have portals setup in the competition area for easy-access but if there's big walls everywhere of art it'd be nice to let people through.
We might remove blocks ourselves but we can put them back before judging too, don't worry.

Must adhere to the Code of Conduct
Bribes must be in the form of gems or max forged hammers and can be given to Simoyd.
Judging
There will be 5 judges

VirresSs
Durandal
Ahridol
Hashmalash
Alduin

Judging will be done on categories

Wow Factor

Not copy pasting mario jumping.

Complexity

Intricate, detailed, well crafted.

Resourcefulness

Using different blocks, colors that go together.

Judges will provide a number between 1 and 100 (inclusive) for each category for each entrant. Any ties for prize positions that have different payouts will have a specific tie-breaker vote done by each judge. Since there is an odd number of judges this will never tie.
Application Form
<Applications Closed>
Contest Area
https://docs.google.com/spreadsheets/d/1j5uMHguyTBG4156CP86MsZt73jdXAyECm0TZu_D95qo/edit?usp=sharing