Moving this post here as it was much more detailed than what was being asked for [here][1].
NOTE: This is simply a mechanics idea. Skills, classes, and stats systems used in the example scenarios are completely made up on the spot for demonstration purposes.
COMBAT SYSTEMS:
THE PROBLEM
I know a lot of people have been commenting on how the combat system should make you feel in control of how you are fighting. In other words, we don't want to select a target and have our characters start auto attacking while we wait on a bar full of cooldowns. There's too much to keep track of in modern MMORPG combat systems and, usually, it all comes down to who spent the most time crunching the numbers and grinding the hours. In fact, this kind of combat system can drive away players who come to Oort to explore and build.
THE SOLUTION
The combat system should implement a simple and efficient control scheme that allows for dynamic combat maneuvers. A good combat system should also include quick engagement/disengagement of enemies. Here, in steps, I will describe such a system:
Targeting
*This would work just like the targeting system in The Ocarina of Time (and a few other Zelda games)
Target your enemy by looking at them, waiting until a small red arrow appears above them, and then hold/toggle the Target Mode key. While targeted, an enemy stays centered on screen. (Camera locks on like in Zelda, remember?)
While you are in target mode: Use the A and D keys to strafe clockwise and counterclockwise around the target. Use W and S to move closer or further from your target.
Attacking
Since the targeting system only requires one hand, the players mouse-pushing hand is free to do some damage!
While in attack mode, hold the left/right/both mouse button to bring up the corresponding "Ability Wheel". (Example: hold LMB to bring up attacks, RMB for dodges/blocks/reflects, and both mouse buttons for items) Each ability wheel has 4 slots: Top, Bottom, Left, and Right.
Now that one (or two) of the mouse buttons are being held and the ability wheel is up, drag the mouse toward the slot with the ability you wish to use. The selected slot will be highlighted.
Let go of the mouse button (or buttons) once the ability you wish to use has been highlighted. The ability will be used. If you are out of range of your target for a specific ability, the ability will be grayed out and wont cast.
---
So thats it… Now let me walk you guys through an example of how this system could come in handy while fighting something.
EXAMPLE
-Fighting a Titan: You're a rogue-like class, quick and nimble. A giant, walking rock wants to smash you and his only weakness seems be his big soft eyes. You gotta stab them… But his head is too high up. Fortunately, as a rogue, you can use the right mouse button to bring up your evasive ability wheel to dive/roll in 4 different directions to avoid attacks while your camera stays focused on the Titan. Even more fortunately, you have a grappling hook assigned to your item wheel (both mouse buttons). You engage the titan by first looking at him. Looks like he has multiple target-indicators, aim for an eye. When you're ready, grapple hook him in the face; your grapple hook has a +20 retraction rate so you should be close to his face almost instantaneously. Now use the LMB to bring up the attacks wheel and go nuts on his eyeballs when you are close enough (rogue attacks have short cooldowns). You can use the grapple hook again to disengage it, or use a backwards evasion ability to disengage the grappling hook and backflip off of his face at the same time.
Other uses: It would probably be nifty to allow certain items and objects to be targeted as well. This opens up a lot of possibilities as far as dungeon design and game progression. For instance, your wooden newbie knife won't cut through the thick patch of vines blocking you from the jungle dungeon.
---
Hopefully this mockup helps. The Charger can be targeted on the head or the rear. The ability wheels replace the toolbar in combat mode.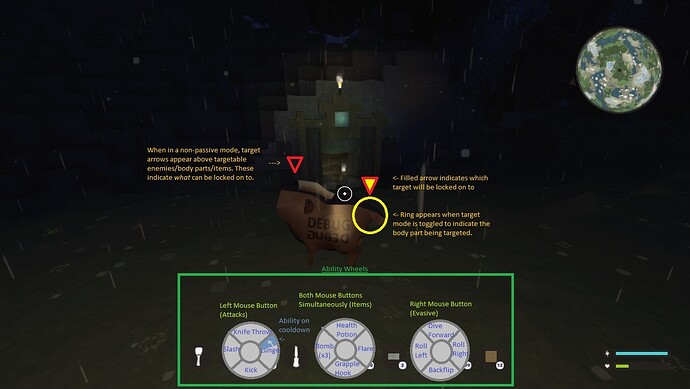 TLDR; Target-lock system like Legend of Zelda, use mouse-button(s) to bring up ability selection wheel (think GTA weapon selection with only 4 slots.)
[1]: https://forum.oortonline.com/t/community-input-needed-system-design-goals/2056