Hey y'all, thought I'd share what I've been working on for the last few weeks: items! These are various little bits and bobs that you will find while breaking various blocks, or create through/use in crafting, or use as currency, or… well, it's quite a list.
I started by taking the list of items the designers have written up and drawing some concepts. I'm no concept-painting pro like Claudio so my concepts tend to be a bit scribbly and basic - it's just an exercise to get down my ideas before I start the process of sculpting and texturing them. This is just a subset of the full item list: only the highest-priority items. So there will be many more to come later! Congratulations if you can read my handwriting, btw… I make notes for myself as I go along so it might not be readable to anyone else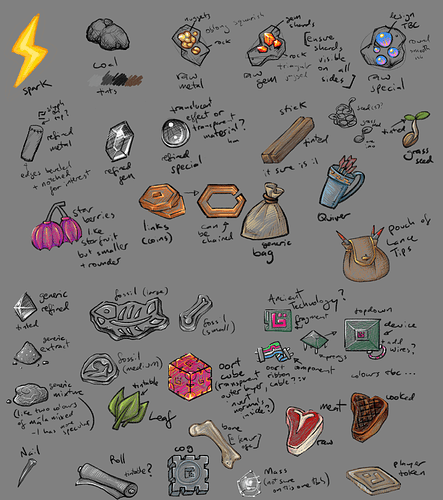 The process of sculpting, retopologising, baking and texturing takes me about a day per item, so this is what I've made so far(this is a screenshot from Maya):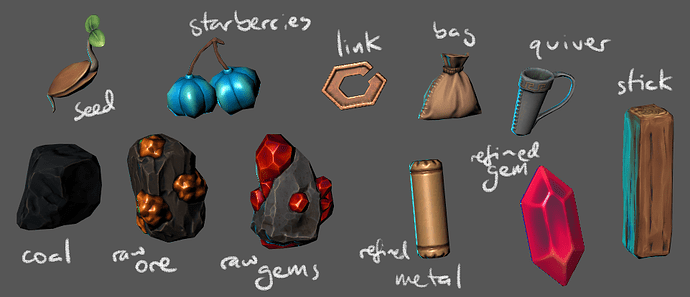 Many of these items are tinted depending on exactly what they're made of - the starberries, for example, come in several varieties so they could be blue or pink or yellow… whatever colour the designers decide they'd like. The stick will be whatever colour the wood you crafted it from was, and the little leaves on the sprouting grass seed will match the colour of the grass it will grow into. The 'link' you can see next to the starberries is your first glimpse of the currency of Boundless - metal coins that can be attached to each other to form a chain.
Hope you enjoy this preview of things to come! As I create more items on the list I'll add them to this thread.