Hi Everyone.
It's finally time to update you on the news of Boundless.
We started prototyping Boundless, originally Oort Online, back in late 2013. We started with 1 person building a voxel world and experimenting with a real-time portal that you would walk through between worlds. Our ambition was to create an epic voxel sandbox where everyone - all players, on all platforms, in all physical locations - could inhabit a single online shared universe. We prototyped and built all of the underlying game and technology ourselves, and gradually added more of our team to the project. Some may even remember playing the earliest versions directly in a browser.
But Boundless is surprisingly complicated and we needed partners to help us fund the development of the game. Boundless simply wouldn't exist without the passion and support of our partners along the way. We presented Boundless to Sony's Strategic Content team in the UK and they instantly wanted to support the game and make sure it would be a PS4 title. We presented Boundless to Square Enix's Collective indie publishing team and they also shared our passion and wanted to support the game and publish it on PC. They both saw something original and unique in the game. Without their support, we wouldn't have been able to release Boundless. But the game never took off the way we all dreamed it could.
Since the official release back in 2018, we continued to support the game as best we could. Fixing bugs, maintaining the universe, and gradually adding new features: LED Blocks, Guilds, Events, Poles, Beams, Exoworlds, Farming, Window Panes, Lattice Frames, Shop Scanners, Glass, Creative Worlds, Sovereign Worlds, Reclaims, Emojis and more. But there ultimately came a time early in the pandemic when we simply couldn't afford to continue developing features and Boundless needed to go into a maintenance-only mode. Since this point, we've kept the game running and fixed the most critical issues when they were discovered. (Who would have thought that the weather simulation would gradually tend to be foggy if the servers are not restarted!) We were desperate to keep Boundless going so that we didn't need to give up on the dream of creating an epic voxel sandbox.
This changes today.
It has taken a few weeks to get everything sorted - but we can finally announce that Monumental, a talented game developer in Austin, Texas, is the new owner of Boundless. They are going to turbo charge its development and promotion. Their passion for the game is equal to ours.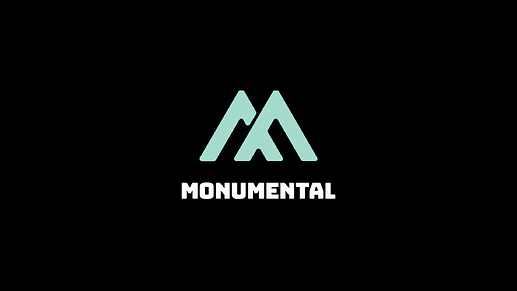 From today Boundless has a new and exciting future. We can't wait to see what we will create together.
Over to @monty1 at Monumental.
---
FROM THE NEW GUY
A few months ago, I got an email from a Crowfall player telling me about a game he loved. He said he had more than 1400 hours in-game and that it recently went into maintenance mode. He said he would love to see someone "save Boundless".
I wasn't familiar with the game but said that I would take a look.
I did take a look (thanks, Michael!). I immediately became obsessed. Over the next week, I put 30 hours into Boundless.
Then I did something that never works; I sent a cold message to a stranger on LinkedIn.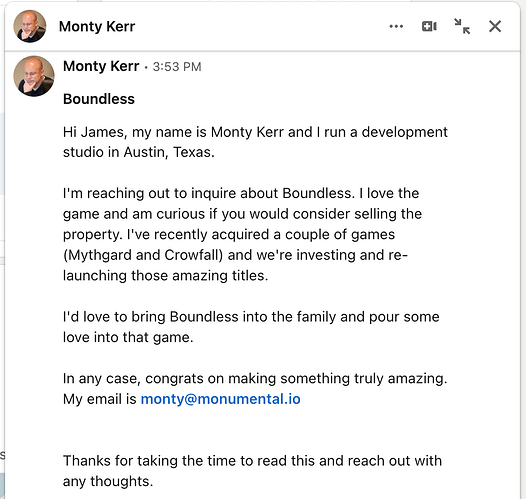 Eight hours later, James responded. And it was… awesome.
We had so many conversations on Zoom and Slack. He talked about the history of the team and the game – and everything that they wanted to do. He sent me snippets of unimplemented designs. He listened patiently to my crazy ideas.
James shared the team's vision for what Boundless should - and still could - become. I was sold.
Everything finally clicked a few weeks ago and I was able to convince James that Monumental was the right home for the game.
I've said this before: I'll be the first to admit that I couldn't have built Boundless. But I can finish it, expand it, and make sure this unique and amazing game has found its forever home.
I can't wait to see you guys in the game!
Monty.