Hello all,
Over the last couple of weeks we've been analysing the world and resource regeneration. Generally the system has been performing well; however, on one particular world we were seeing the regen system lagging behind the amount of changes being made, which was causing scarcity of resources as well as performance issues on the server. To combat this we made some configuration changes and have been monitoring since, and I thought I'd share the results with you.
The two changes we made were firstly to increase the speed of regeneration, particularly when there was lots of regeneration needed to be done in a given area, and secondly to batch the changes together more to relieve pressure on the machine. Here are the graphs of the key areas of this system over the time: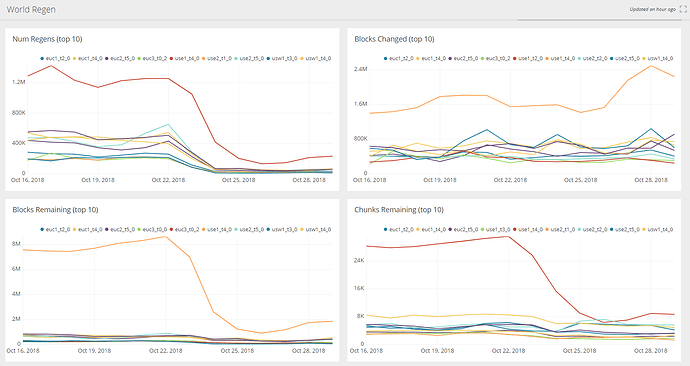 Each graph shows values per day for the ten worlds with the highest values in that particular category. The key at the top of each graph shows you the (internal) world name for each colour for that graph. Because each graph sorts itself by the highest values, the colours do not exactly match-up across the different graphs.
The top left graph shows the number of regeneration changes that each server made over the period. This is the key metric for server performance as every change costs processing time and time to write to the disk. You can see that dropped dramatically for all worlds.
The bottom two graphs are the amount of regeneration that is remaining at that point in time, and they go down equally dramatically. Bear in mind that the top left graph is showing a reduction in regeneration work done, and the bottom graphs are showing the amount of regeneration has hugely increased. This is because of the increased batching, and how that has interacted with our resource limits allowing more to be done over time.
So those three graphs are showing the system performing better and coming closer to the behaviour of the other worlds, but you'll notice our problematic world is still tracking somewhat above the other worlds in all those metrics. This is where the top right graph is interesting – it shows the number of block changes made. Our troublesome world has always been significantly higher than other worlds, but also during this period of improved performance the amount of block breaking has actually increased, so the system has been performing well under an even higher load.
Overall I'm confident this shows the system is now working as intended and regeneration will keep pace even in the most extreme situations.