Hiya and happy Friday… most of you like shopping right??

I don't know how many of you would have remembered Jess posting her Plinth models as part of an earlier dev post? In any case, I thought I'd share this week the latest on the progress done as I get round to animating for plinths/shopping.
As a recap, Plinths are what you need to showcase what you would like to buy and sell. Select a plinth to access the option to purchase what's on display.
As you engage in shopping, I've created a long ambient 'shopping and browsing' animation loop so that the players can all see that you are immersed in browsing/shopping for worldly goods- (the anim is similar and in the same style to the long trading loop I posted in the trading animation post). The animation will also be shown next to the shopping gui cinematically similar to the camera work and menu on the inventory.
Shopping Animation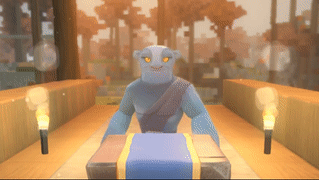 Long looping ambient animation, depicting and expressing something perhaps along the lines of…
'Oh, that 'amazing talisman of good fortune and invisibility' (clearly) looks pretty nice… can I even afford it…perhaps…but do I really need it? Oh but it is rather tasty.'
Have a good weekend all

[SNEAKY POST EDIT FROM BEN] "Here's the latest GUI mockup that it'll run alongside"