This update is accessible via the Steam Beta "testing" release of Boundless.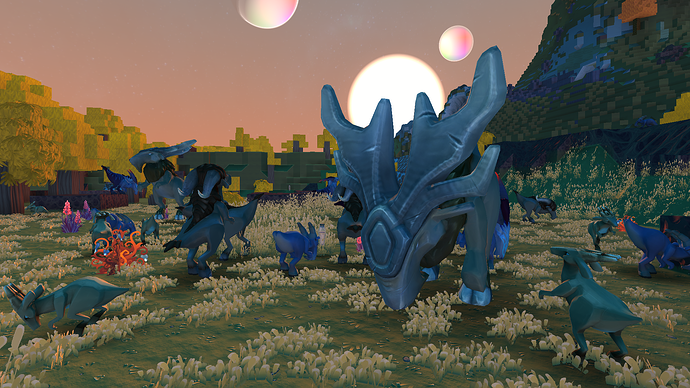 Our quest to get the trailer content into the live game is progressing nicely. We've updated the "testing" beta on Steam so you can have a preview and let us know of any wrinkles that need ironing out before we update to "live" next week.
This Testing update contains the 3 worlds that we showed in the PSX Demo build. There are 2 portals connecting the 3 worlds together near the Capital city.
Please report all issues discovered with the update to this support thread.
Headline New Features:
New creatures, and creature variants:
4 new Wildstocks, 5 Wildstocks are now in game.
1 new Spitters, 2 Spitters are now in game.
2 new Cuttletrunks.
2 new Hoppers.
The Sanctum – a safe haven where you start each time you load the game. On first run, there is a tutorial to show you the ropes, afterwards it allows you to choose where you go to.
Objectives system with fifty initial objectives.
Gem weapons and tools.
There are lots more changes and features than that, but we'll give you the full rundown when we promote it to "live". In the meantime if you get a chance to take a look and report any bugs you find in the support thread, then that would be very helpful.
Known Issues:
Unable to enter any game world from the Sanctum. We have reports of players unable to enter the game with the current Live version of Boundless. This can also happen in the new Testing version when entering from the Sanctum. For some reason the game is not loading all the required chunks from the server. We're investigating and will resolve this as soon as possible. If this happens please let us know.
Some Objectives aren't being tracked correctly due to smart stacking. Break the stack and the Objective should update correctly.
If the Warp is open to a dangerous location you can press E to interact with the Warp and select a new location.