So this has likely been suggested already (among others, by me, in the middle of other threads, while I was rambling) :
CRAZY IDEA : Crops improvements
Thing is, I thought this had its own thread… but turns out, nope! So there!
Chrono-stasis spray for Prestigious crops :
A few minutes ago, I was running around in our 6000+ plots build, and I found an old and withered prestigious crop that we planted a long time ago, which restarted my brain's Salt-Engine© (the thing that keeps me running - Gob-Fact!).
Yeah, I mean, the prestigious crops and their RNG-based withering timer thing, that's awesome IF you have them all lined-up at the same place, but if you wanna have a HUUUUGE build and want to plant them in a LOT of (hard-to-reach) places, that's less than ideal. Now imagine if you don't even care about the prestige they bring!
SO HERE IS a good compromise idea to resolve the issue.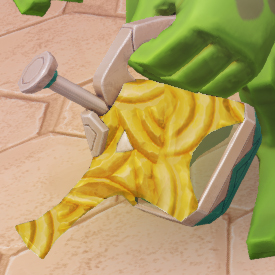 re-used-picture_sue-me.jpg
It's a fertilizer item crafted with whatever, let's say Amber+Blink+Rift+Umbris+Unobtainium. You decide!
If you spray that on a growing / mature crop, ta-da, magic, the crop stops growing, and it stays at its current growth stage and never wither, but it also stops giving prestige! If you harvest a crop under chrono-stasis, it also won't give you anything.
This way, you get a good compromise! You could :
• get the prestige if you are ready to deal with the RNG-withering part of the prestigious crops.
• keep any crops at any temporary growth stages for decoration purposes.
• keep the decoration crops without worrying about the prestige and RNG-withering timer.
Yay, I want the chrono-stasis spray!
Meh, I don't care for the chrono-stasis spray…
Nay, I don't want the chrono-stasis spray.