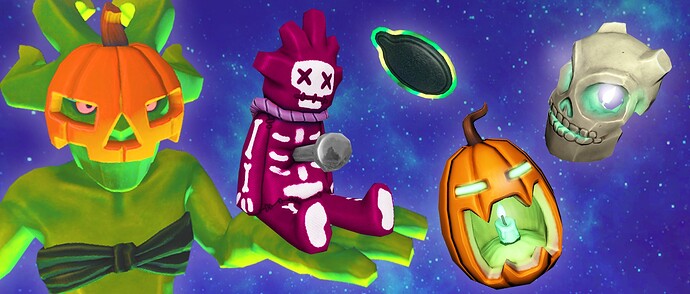 It's that time of year again - the nights are getting darker, and spooks lurk around every corner. We're very pleased to be celebrating Halloween in Boundless once again!
From 1200 UTC on the 24th October, until the same time on the 7th November, you'll once again be able to Craft special Props from Spooky Orbs found throughout the Known Worlds. These include the returning Pumpkin and Skull Lanterns, joined this year by our little lost toy, Oorty the Oortling Doll! We expect to see a lot of these creepy little characters decorating the scariest Builds around the Universe. A final new prop, creepy Spiders, will be grown from Spooky Seeds in Trellis blocks, creating some seriously unsettling scenes…
On top of this, we'll be bringing some new wearables to the Exchange, including the skin-crawling Cuttlehugger mask, creepy Oh My Button Eyes, the Spiderina mask and a gruesome metal Screw to spook up your Citizens!
On top of all this, from Halloween itself (31st October), you'll be haunted by special Nighttime lighting conditions, ominous weather effects, and a horror-tinged soundscape that will send chills up your spine!
We're also going to be unveiling an awesome new sanctum for the duration of the event, brought to you by a very talented member of the community. We'll reveal more on that closer to the time - it's looking great!
Have fun, don't get too scared, and be sure to share your best efforts with us!
Here's Jiivita with the video rundown of the event!
EDIT: in a slight change of plan, players will now craft the new items from Spooky Orbs, dropped from Fungus. Spooky seeds will be planted to grow spiders in trellis blocks, creating the most frightening crops you'll ever see.
Players with existing seeds will find them converted to orbs, which are used to craft the lanterns and dolls. These can also be used to craft spooky seeds, which are used to create Spiders. Spiders can be placed anywhere in the world and do not wither - these are props, not decorative crops.