Hi all,
now, that we have the survey about the new beacon system I thought to myself, that it is time to take a close look at the old system. therefore i analysed the data which are provided by the old beacon request thread.
Overall there are 284 Beacons (requested in the thread, i have no informations about request via PM) on 49 Worlds.
For my statistics a assumed that the radius of a beacon is 25 if there is no other dimension requested (@ben can you confirm this value ?)
For a better comparability you can find the current plot sizes in table 1.

As you can see in the second table, the smallest requested beacon has a radius of only 15 blocks (remember, old beacons have a full 255 Blocks hight) and therefor would require 113 plots in the new system. Assuming that only ~the half of an old beacon is build it would still require 56 plots.
This values escalate quickly for the average beacon size (84 radius) and for the larges beacons (600 radius) that have been requested. You can also see that the deviation is really high with a value of 114 radius.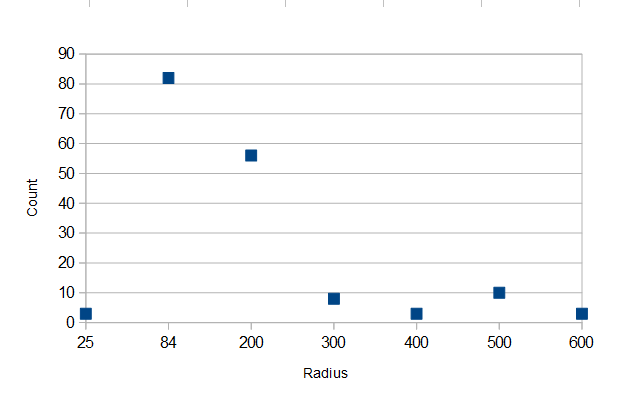 In figure 1 you can see the numbers of each beacon size (intervall) that have been requested. you can see that the peak is between 25 and 200 where also the average beacon size (84 radius) can be found. you can also see that there is a noteworthy amount of beacons with a radius of over 300.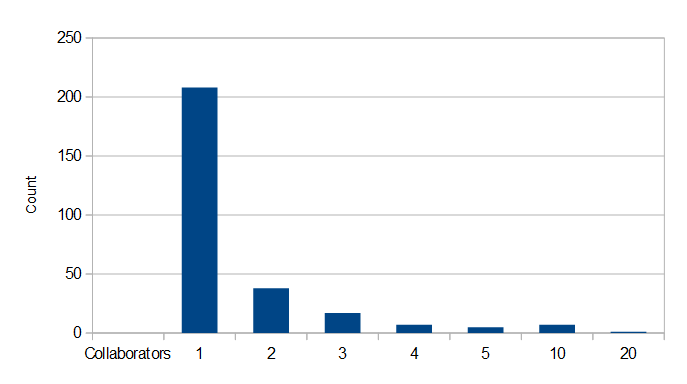 in figure 2 you can find some informations about the number of collaborators for the single beacons. you can plainly see that most of the beacons don't have any collaborators (single player) but there are also a lot of beacons with 1 or 2 collaborators (2 or 3 players). The biggest cooperative beacon has 19 mentioned players.
(Please note that i was not able to track collaborator changes over time)
Last but not least i created a map of the positions of all beacons within their worlds.

As you can see in figure 3 most of the beacons are relativ close to the center of the worlds (capital) while bigger beacons tend to be in the wild.
(If you like the original in 8192x8192 write a PM)
EDIT: In response to @Stretchious i splited up the graph for the single servers.


As you can see in table 3 11 of the 12 most populous worlds are EU worlds. EU West leads with 62 beacons over all followed by EU East with 44 beacons and EU Central with 33 beacons. The lesses pupulated worlds are in Australia (Veedle) with only 8 beacons. It is an interesting side-node that not one US world made it under the top 12 worlds while in fact the most forum visits (~40%) come from the US.
Ruchs, Xewell, Agabab, Lapas

Folva, Selta, Meezan, Gortnen

Cshmire, Veedle, Vadvy, Lepker

As you can see in figure 4, 5 and 6 the beacon placement is mostly random but over all - as shown in figure 3 - there is a focus on the worlds center (capitol).
I hope i can help you with your answers for the new beacon poll and can help the devs shaping the new beacon system to a better one