This update is accessible via the "Live" release of Boundless on Steam.
Please report all issues discovered with the update to this support thread.
Please restart Steam to make sure you get the latest version of Boundless. If the update happens whilst Steam is open it's unlikely you'll get the latest version.
Overview:
Minor update to introduce changes to the chisel, spanners and dual grapples.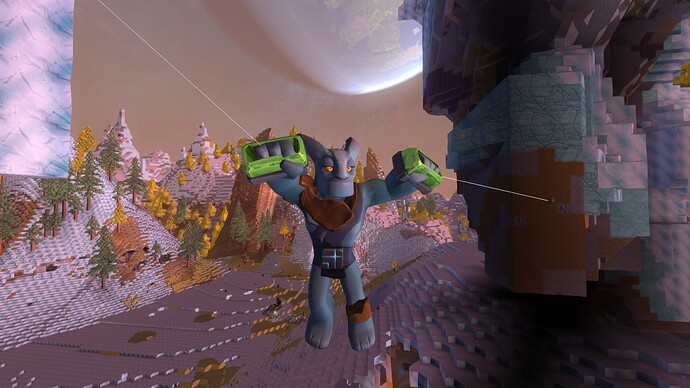 Release Notes:
Art + Animation + Assets:

Metal ore seams now have new unique textures to aid recognition.

Crafting + Resources + Equipment:

Fix players being able to rotate blocks in other players beacons.
Spanners have new models in line with the design of other tools and weapons.
The chisel tool can now rotate prop blocks (crafting table, crucible, machines, storage, shelves and plinths).
WIP (work in progress) dual handed grapple update.
Grapple system updated.

Grapple hooks detach when released and fired as a projectile (so no longer instant hit!). The grapple does not become active until the hook has embedded into a target point, creature, or player.
Grapple connector rope rendered as a debug line, with a proper connector visualisation to follow.
Character animation updated to handle grapples in either hand. Some glitching occurs while grappling, but this will be fixed shortly.
MISSING: Grappling controls are due to be reworked.

GUI + HUD:

Fixing bug smart stacking items.

SFX + Music:

New sound effects for:

light cube shake.
totem pick location.
add and remove beacon plots.

Server:

Added more debugging tools for server crashes.
---
Update 1: Missing release note about the grapple has been added to the original post.