Hello Citizens
We wanted to update you all on the progress of our next major update, which includes Sovereign and Creative Worlds. Many of you will have been trying this out on our testing servers, and we're excited to report that we plan on releasing this next week (week commencing 14th September).
If you've not caught the testing release notes, the latest version of these can be found over here;
When you purchase a world you will be able to control its generation. You will have the simple option of selecting from a standard collection of predefined world configs, or you can select the advanced option. On Sovereign Worlds you will be able to select the individual biomes, within some limitations to keep the worlds fair and consistent within the main universe. On Creative Worlds you are free to select any biome, any resource profile, and more. This process will be initially done by a web form.
To help with the selecting the biomes we've got a form of 'Brochure' thanks to our resident travel photographer, as can be seen right over here;
As we dot the i's and cross the t's on this release, we'll have all the information to share very soon, including an in-depth FAQ about the feature. This should answer all your burning questions about the creation of Sovereign and Creative Worlds.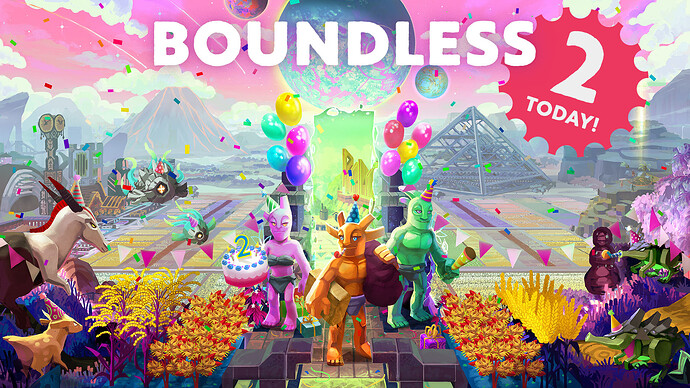 Happy Birthday
Additionally to all this, as I'm sure many of you are aware, this week we are celebrating the second anniversary Boundless' full release! It's been a blast for these past couple of years, and we've loved sharing every moment of it with all of you.
Of course, we couldn't let it go past unmarked, so commencing next Thursday, we'll be launching our Boundless Celebration!
Now, we don't want to spoil all the surprises at once, so as is tradition with our seasonal events, keep an eye on our Social media feeds next week for sneak previews of everything that's coming. We've got a new wearable, a very cool new item to craft, and an old favourite returning in a new guise. In addition to this, we're making all previous event wearables available for purchase once again in the exchange!
Outside of the time-locked event, we've got a little extra gift for Gleam Club members too, who will be able to enjoy a whole new range of dance emotes! Doing the Can-Can, Rocking out, or a classic Dab, however you want your citizen to celebrate, you'll find it here. Also coming next week are the winners of our Community Competition, so we'll have three brand new Body Paints, all designed by our very talented players!
We hope you're all excited to celebrate Boundless' 2nd Birthday with us!