This week we have been focused on the final preparation for the C++ version and getting it on to the Steam mainline. Whilst this should have been relatively simple there were quite a few weird bugs that took time to fix. But we've now finally done the switch.
Checkout the posts to learn about the details of the switch and the recent changes to the C++ version of Boundless.
As we had a bit of a bumpy ride with the C++ update this time, Dual Wielding and Lock development have been a bit slow. We are still hoping to release a functional versions of Dual Wielding, Storage and Lock this month. We are keeping our fingers and toes crossed.
The world builder update (now includes inverted slope support) and resource generation development are going well. Releasing them will mean another apocalypse to the worlds of Boundless.
---
Code
We worked on the latest release, moving the C++ branch to become the main version. This includes two new worlds being generated with the first pass inverted slope rules, an updated version of the old live world and a new 'funky' world. The new world is a first experiment in developing unique and adventurous biomes.
The Pipes, including first pass meshes, are being added to the Machines so power can flow around. We also worked on fixing the flowers so they appear correctly in the world and inventory.
The GUI work has continued with the reflow as well as allowing users to order items, so you can place items on your Storage shelves just as you like them.
We worked on an internal PS4 demo and as part of this work on smoothing the portal transitions. The goals is to get them seamless, as long as your machine is capable of rendering the two worlds.
The shader pipeline has continued working on updating the games' shader, and wrangling with the Mac version.
Design
This week has been mainly about worlds and colours. @lucadeltodecso has been working on the generation and regeneration of resources, so we've been assisting when there have been design questions. We are also building a process for generating the block tint colours, and the lighting settings for each world so when arriving on a new world it can have its own look and feel, but with a sensible ruleset which gives it a coherent look.
The other thing we've done is write the questions for the next survey, which we're aiming to send out early next week.
GUI
There's a lot of GUI in Boundless. How much GUI? This much GUI: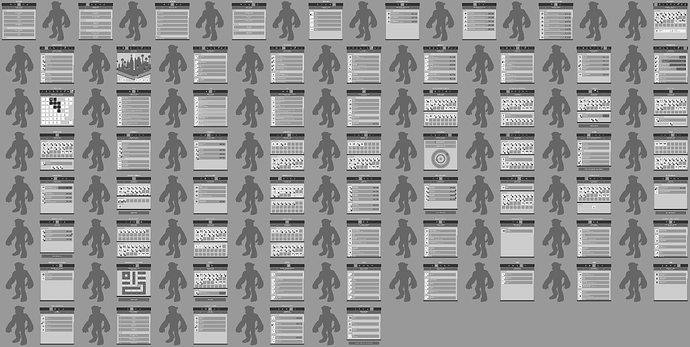 (Actually there's more, but this is what we've done so far)
Right now we're testing in wireframes (illustrated above) how our GUI system stands up against all the different gameplay system we'll have in Boundless 1.0. Our goal was to build one set of widgets and elements that could pieced together in different ways drive all gameplay features that required an interface.
Work continues on implementing this system in-game with scaling and dynamic re-flowing of elements, we'll have more to show next week (and maybe even some gifs).
Art
We've shared some concept development for the Protectors, Mystery Box, and Guild Control. Let us know what you think.
Next is the Beacon Plotter which the player uses when placing Beacons. The default item that you hold at the start of the game. Thematically we've chosen blueprints to show that your character is measuring and constructing the Beacon.
This week has all been about the character race exploration. We're concepting a wide range of designs that are consistent with our Boundless lore.
For production reasons we have chosen not to render a player's hands in 1st person so we have chosen two new items as a replacement of an empty hand. We're calling it the totem - a subtly decorated stick in the right hand and an Oort cube light source in the left. The player can shake the Oort cube to light it up for a short period to help navigate if needed.
We're fully into the Cuttletrunk animation exploring how this tentacled creature moves through the world. Here's a sneak peek: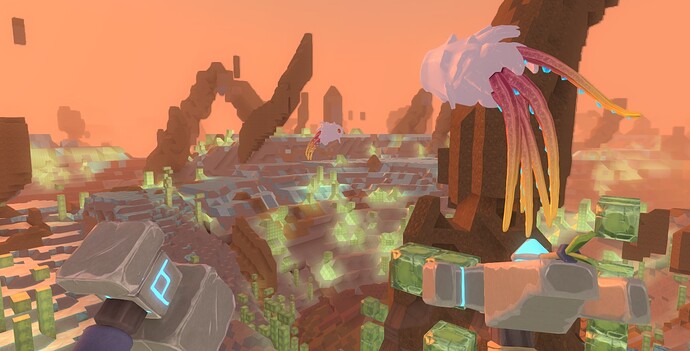 ---