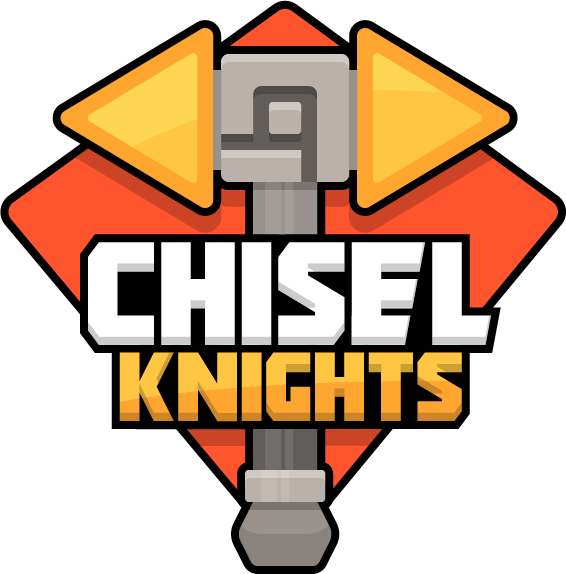 City layout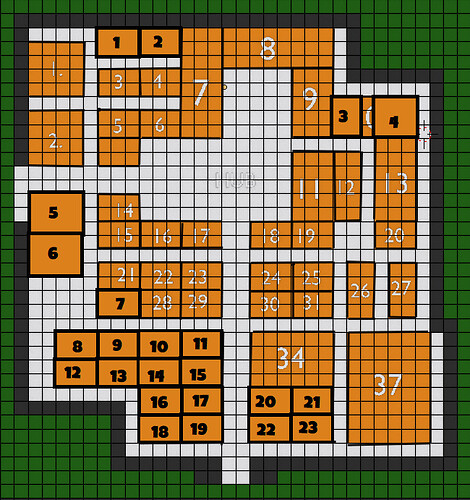 BLACK PLOTS ARE NEW PLOTS READY TO BE CLAIMED
1: 2: 3: 4: 5: Reserved
6:Reserved 7: 8: 9: 10:
11: 12: 13: 14: 15
16: 17: 18: 19: 20:
21: 22: 23:
Make a reply if you want to reserve certain plots.
Our new city will be surrounded by high city walls. In the center there will be a huge poral hub with over 80 portals accesible for players. There will be also several big player shops where merchants will sell their goods. Around the city square there will be 37 plots for other players.
Small plots are 3x2 size, you can check size of remaining ones by yourself. Just visit city building ground behind ChiselKnights HQ portal hub.
OLD EVENT PLOTS:
1:Pollard90 - 2:Kirinvar - 3:InkCherry - 4: - 5:IAintNerdy - 6:Karokendo - **7:Reserved - 8:Reserved - 9:Reserved - 10: 11:Dash - 12:Dash - 13:OldManWillow - 14:Warghoul - 15:ComplexRogue7 - 16:MeloFr - 17:the-moebius - 18: Jenndragonfly - 19:CosminNegoita - 20:Touch122 - 21:Reserved - 22: - 23:Astralus - 24:Sam - 25:Will - 26:almund - 27 - 28 - 29:TinxE - 30:Sam - 31:ChimeraGaming - 32 - 33: - 34:Dhusk - 35 - 36 - **37:**reserved for 3rd party guild
How to join?
If you want to join, make sure your read Information section below. You shall also reserve your plots by replying to this thread. We will assign you a plot for your building. You don't need your plots to build in our city. We provide them.
City will be built in RPG/Medieval style. This is important. You must know how to create a good looking building. Make some preparations, check this page below buidelines and put some effort into learning medieval style. If you have trouble with creating your own design you can copy one of buildings.
Information
GUIDELINES:
Strict RPG/Medieval naturalistic style: wood, trunks, stone. Natural blocks for decoration
You MUST provide a design of your building. Check Magicka Voxel and make your design there, please share screenshot in this thread.
You may choose one small building plots.
Reserved plots are plots for Big Shops - for dedicated Boundless players who will not leave them empty after 1 month.
Plots strictly around the hub are reserved for well designed building with some functionality: shops or roleplay buildings.
MATERIALS LIST:
Lustrious Wood Trunks for frames
Metamorphic Stones (not rocks) for filling
Metamorphic Bricks for decorated parts
Sedimentary Bricks for pavements
Lustrious Timber (square chiseled) for roofs
Various types of leaves and gleam
Colorful torches
Grass Seeds and Soil
>> PAGE FULL OF INSIRATIONS <<
---
Want to join Chisel Knights?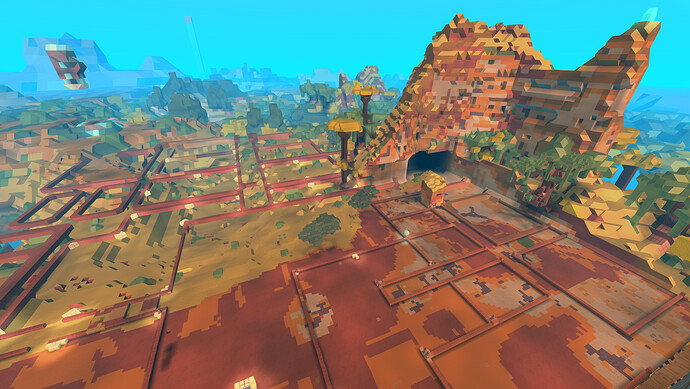 Old Poll
I will participate
I will participate and record it!
I will sadly not be present :<