Hi everyone,
Boundless Server Status & Ping Test
Not so long ago I had some latency issues when playing on worlds that where physically not so close by. For example, playing on an Australian server caused some ingame lagg. I wanted some more insights in the performance and instead of using the ingame debug options, I created a little monitoring system in my holidays.
An additional feature has been added recently, which allows you to test your connection with the game servers. Just like the monitoring system itself.
Screenshots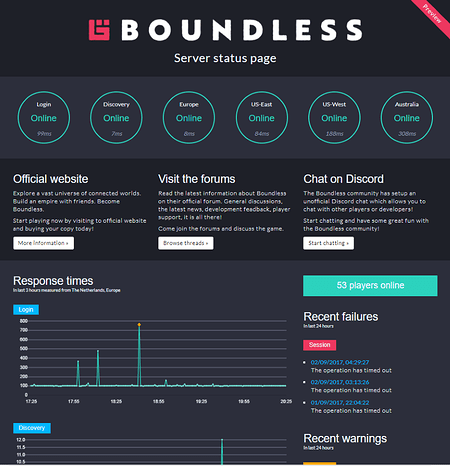 Summary of server status, histogram and total online players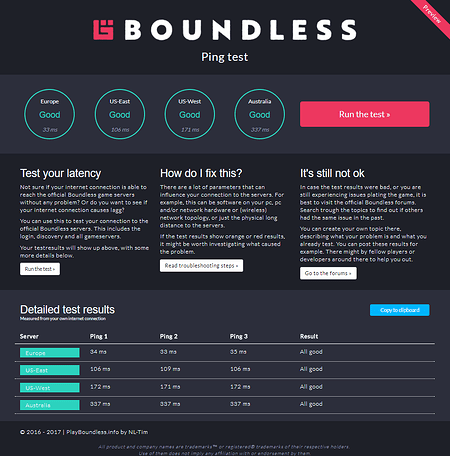 Run a Ping Test against the game servers.
Results are in the summary and in more detail in the table.
Features
Server Status Page
Realtime, auto updating status displayed per server (game servers, discovery and login)
Insight in last failures and warnings (in last 24 hours)
Histogram to view performance over time (in last 3 hours)
View total current players online
Links to official Boundless pages
Overview of latest official announcements and dev logs
Links to other fellow community projects
Mobile friendly in screenspace as bandwith
PingTest
Ping all four game server through your browser
Verify your connection with the game servers, in stead of the results of the server status page
Output in summary and more details in a table
Automatic conclusion is added to the result table
Copy to clipboard feature, generating markdown tables for use here in the forums
Where to access
Server Status Page @ http://status.playboundless.info
Ping Test @ http://status.playboundless.info/PingTest
This is the first implementation. I have additional plans to improve it, like monitoring from multiple locations. Feedback is of course welcome here in this forum topic.
Notes and disclaimer
Note that this is still a fun project, no guaranties what so ever. It's a sparetime community project, not officially associated with Boundless, Wonderstruck or Turbulenz. Performance is measured from The Netherlands, Europe. Your results may and will vary.

Known issues
IE11 does not seem to render the charts. Needs further investigation
There is no page with troubleshooting steps yet (instead, an alert is given)
Change log
14-05-2021 - Broken -> Workaround
As the original status site was never updated to the new worlds after the stable release of Boundless, the site stopped working. I've shutdown the monitoring systems but the site is still up. Considering a re-architecture and spening some more money on it to make it a better solution. It's a long term plan, so don't expect anything soon.
Meanwhile I created a script you can run on your windows PC. See this post later in this thread: Community project - Boundless Server Status & Ping Test
06-09-2017 - Unofficial
Minor and non functional update.
Page titles now display 'UnofficiaI' to make sure that this is an unofficial Boundless website and not maintained by Wonderstruck / Turbulenz. Footer was already stating this.
Screenshots will be replaced with later functional update(s).
04-09-2017 - New feature: PingTest
New PingTest feature available in preview:
Allows you to ping the gameservers through your browser
3 attempts per server, results are analyzed and displayed
Copy to clipboard available, for easy result table to post here in the forums
Forum post updated with additional link and description
Google analytics for tracking page visits and usage of the Ping Test
(anomized conform EU privacy regulations)
02-09-2017 - Performance improvements
Announced here in this topic.
Fixed bumpy performance measurements. Measurements are now more accurate.
Empty-state when there are now recent failures or warnings
Performance improvements, caching
Added Preview label
More details on time-frame and monitoring location
Small UI impovements
Different monitoring target for the session server
27-08-2017 - Additional features
Project first shared here on the forums Playing Boundless from *outside* Europe, North America and Australia?
Recent failures and warnings
UI improvements
Players online
26-08-2017 - Initial release with basic features
Basic monitoring client
Initial website
Histographs
Summary
Links to official site
Announcements and devlog
Community links