PREFACE:
So I made an upset sounding post on the testing thread for 246 last night. It was late and the post was a little hyperbolic in mentioning the death of the "real game".
It garnered some interesting (discussion-worthy) responses but I don't want to derail the test thread with it. So here's a post for discussion of "thoughts and feelings" regarding the sudden inclusion of creative worlds in the upcoming release and the impact this will have on the boundless universe over all.
EDIT: After typing this all up, editing and reading back through, it all seems like a sort of pointless ramble. But pointless as it ultimately is I spent WAY too much time typing this up and I'm still going to share it. Sorry if it upsets anyone but in the end, it's just one person's opinion. If others are spending way too much time thinking about the evolution of Boundless I encourage you to take a moment and share your thoughts.
EXCERPTED POST:
Just to be clear, I'm not bitter about the coming of creative worlds. I have heard tons of demand for something like this since I came here, and I hope that they bring new exposure to the game and also revenue that can help boundless overall to grow and improve.
I personally, as a mater of preference/opinion, have zero interest in them. This isn't meant to invalidate anyone else's desires to build, and only build. I dont' see anything wrong at all with Wonderstruck wrapping up their voxel engine into a package like this, and selling it. Or even better, renting it

I do have concerns about blending it into the survival game in such a way that it's seamlessly integrated and players attempting to make their way within that path are regularly confronted with the "achievements" of creative players. And those concerns are increased by every way in which creative can be used to acquire benefits that reflect on a players survival experience.
I'm not too fond of the term "survival mode" either but without a theme or lore or what have you, if it can't be put under "rpg" so I concede it's the closest genre.
Anyways …
I do feel that there should be a hard separation between the two. Even if it's something as simple as being pushed into the sanctum and selecting a creative switch/page/whatever at the warp blocks.
A solid reminder for those trying to make their way in survival that you have entered "the free zone" so that you don't end up portaling out from a hub, staring at some marvel of voxel placement, thinking about what went into it, etc… without ever realizing it's just a voxel painting that doesn't really reflect on the larger game.
I realize I'm skirting dangerously close to insulting some voxel artists here so just to clarify this, and my use of the term "real game", let me say that if this is what you want to do with your time, I don't see anything wrong with that, nor honestly consider it a better or worse pastime. Boundless has been my first voxel building game and I've been introduced to a whole new form of entertainment here.
However in creative mode there's no risk/reward. There's no embodiment of effort. When I look at a build in the current universe I see more than just The Build. To me what can be done in creative is surely a valid hobby or pastime but it's not a "game" in that sense. Sure there have been all kinds of discussion on economic activity vs. grinding, etc… but in the open universe every build represents a contribution to the overall ecosystem and typically the efforts of many players culminating on one or more persons having the ability to get those resources into place and produce what you see.
So to me, in that way, creative mode is sort of hollow and may as well be magica voxel or something similar. Which, again, is fine but it's the basis for me not being behind a seamless integration of the two experiences. It's my opinion that when placed on the same pedestal, the one experience devalues the other.
Does "player growth" happen on creative? Are you simply referring to user count here?
I suspect you're talking about user count but waking up to this response this morning leads me (obviously) to the more philosophical side and I feel like creative bypasses a great deal of what I would call the "growth" of a character. The planning, the skilling, the economic understanding, the effort and shared experiences that, for better or for worse, are a large part of creating a sense of community.
Again, without trying to invoke right or wrong, I feel like creative is just a sort of place to flex in a particular way.
I have to agree with you here. I'm not casting shade at any player or play style. At least not intentionally.
Well put. Currently there is the issue of dividing the existing player base. Of course the overall target is for this sort of service to increase the player base and hopefully, in the end, it's a boon for both systems. If that doesn't happen neither I nor, IMO, any other reasonable person would "blame the players".
Yes of course they are. A player can also interact with your build in survival by shopping there. Or by using it for it's purpose to facilitate the farming of materials. Or for playing games that will require special per-user permissions in creative. And the player's interest and attention reward you for their visit in the forms of footfall or other economic interaction.
And of course, while I realize this is what some people want, it also removes an entire aspect of appreciating what's gone into the build itself. Material acquisition, character development, tooling requirements, atmospheric obstacles, etc…
This is only true (specifically that it's 'the same game') if you feel that 'the game' is placing voxels and everything else is purely an impediment. Much more of my build is dedicated to my own advancement within the larger game than ever has been to the service or entertainment of others, and I don't think that should be left off the table either.
Who is going to build a shop in creative? A workshop? A storage area or a leveling system? What's the point? We build a lot of things that serve purposes other than simply showcasing our architectural interests with giant mausoleums.
And these things require materials and crafted goods that have no place on creative worlds, to serve purposes that don't exist on creative worlds.
I do. I believe that those things drive a level of engagement, and create a sense of community. Not more or less important in any absolute sense, but different. Still, in realistic terms, more important to me.
And bluntly, though it's a pointless exercise due to the level of integration already on display, I am in fact advocating that it should be held separate, as a standalone universe. There's no need for it to be literally a completely separate purchase, it's great that you can purchase access to the engine itself and then choose to use it in either way, or both. I just don't see the need to try and blend the two totally different uses as if they are one.
This is sort of a side note, and I agree with you here. I've argued elsewhere that people try and read too much into this term as there are many types of MMO. This doesn't really reflect on the points I'm trying to clarify here.
So I have to wrap this ramble up and get on with my day. I'm not really interested in arguing this out with anyone as I don't actually see a right or wrong here. I am obviously interested in discussion on the topic and sharing of opinions so if you have something to say, please do.
In closing, it's comments like the following that provide encouragement for my thoughts and a solid hope that the inclusion (integrated or not) of creative worlds in the boundless universe will in the end, bring an overall influx of interest and improvements that everyone can enjoy, regardless of whether they're focused on the overall experience, or simply a particular aspect of it: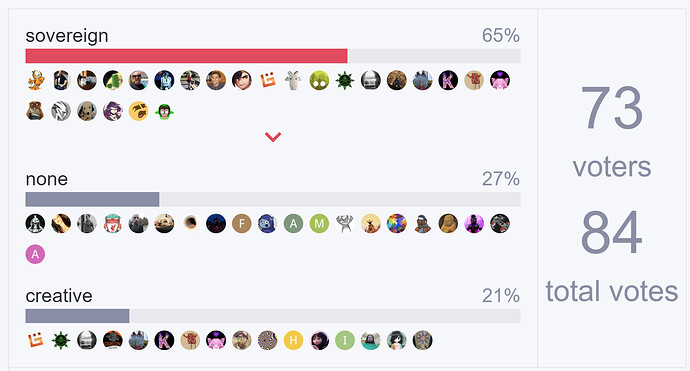 Here's to a vibrant and growing Boundless universe for all kinds of people