After the introduction of the beacon reservation buffers some players have been taking advantage of the system to reserve large areas of land. It goes against the spirit of the reservation system which was designed to allow players to protect their beacons and give them authority over their closest neighbors. It wasn't designed as a multiplier for their plots.
This style of plotting is now officially banned.
The following is an example of the structure: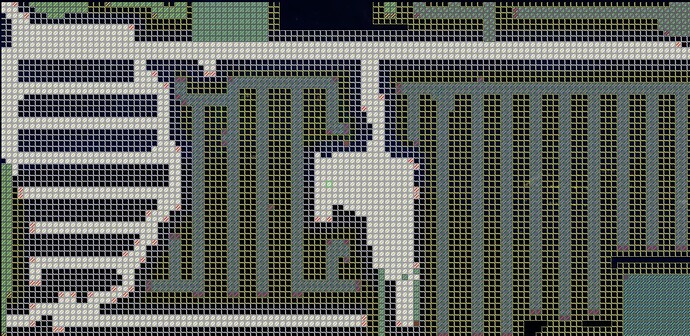 The game will be updated to disallow adding plots when a beacon is determined to be using this structure. Please consider this post a warning that the system is now banned and if you're using it you should take action to alter your plotting structure.
If you're using this structure then please consider removing the plots.

If you're aware of another player using this structure then please report the beacons. We will then make sure that the plots are removed with collaboration with the owners.

Any player refusing to remove the plots will have the plots removed by a moderator.
Our aim isn't to punish players here, rather to get the structures removed from the game worlds.
---
I'm happy to respond to queries here so that there is clarity:
We're banning using the reservation system to multiply your plotted and reserved land. We're going to technically ban this by monitoring the ratio of plot-columns to reservation-columns. For a compact beacon this ratio is very low. For a sparse spider-web beacon this ratio is very high. Once the ratio becomes too high the plotter will no longer allow additional plots to be claimed.
Mass plotting isn't banned under this ruling.
A shopping mall isn't effected by this because the mall-roads and mall-shops collectively make a compact structure. So a mall isn't abusing this structure. I hope people can see the different here. (If all the shops were removed then the issue could be triggered. However, there will be some flexibility so that malls can be extended with new capacity which by their nature will be sparse.)
Surrounding a beacon is always banned - and should be reported. But in this screenshot you'll notice that the enclosed beacon is also abusing the system. Both beacons are owned by the same user. (I'll find a better screenshot so that there is less confusion.)
Yes - this would be banned once it triggered the system.
This is a good question. It's the structure that we want to ban as it is deliberately designed to stop other players claiming usable areas of land. If the buffer was disabled and the spider-web remained the land would still be reserved as it's unusable. Whilst not final I will look to ban the structure fully. Remember it will be balanced to give players flexibility. But the balance point will be defined where the system is clearly being abused.
---
Either remove a few plots to get yourself back to a sufficiently compact beacon or fill in some gaps. There would be no need to kill the entire beacon.
I will stress again the system will be balanced to stop extreme abuse. The vast majority of players who are plotting and player normally will not trigger the issue - because before the protection reservations were implemented these structures didn't occur.
This right remains and the protection system remains. We will balance the system so that a new structure can be created. But we will find a limit to stop vast areas being claimed.
Say you were to plot a 100 x 100 plot square then fill in the middle then this could trigger the protection. But this is easily worked around by gradually filling in the middle as you go.