Hi all,
in the discussion about grief protection in the new beacon system i had in idea that might solve the problem and adds game-depth to B<. Therefore i thought some time over the current fluid system which is, in my opinion far from ideal. The hole idea is theoretical and i don't know if this can be transposed to B< but it would be super cool. Maybe @james can share some of the devs plans according to Weather, Water and Farming.
First of all the problem of the current system:
You can place fluid blocks (water, lava) independently wherever you like
Water and Lava are destructive forces if combined
Water has currently no value and has no game-play mechanism
My idea might be radical and i'm quite sure some of you won't like it but here it is …
REMOVE PLACEABLE LIQUID BLOCKS FROM THE GAME
that said i like provide an other solution to get water where we need it (this is not a new suggestion and i already saw it but it has never been deeply discussed).
Fluid System
Imagine instead of placeable liquid blocks we have pipes and pumpstations. if you need water somewhere you need to take it from somewhere (this is a natural approach). this would also fit fine in the B< universe where technologie seems to be a big thing (look at all the concept arts about power cores, engines and workstations) so why not add pumpstations and pipes to it ?!
if we follow this idea the problem of water + lava griefing might be removed completely because there are only few worlds with lava and water at all and the other reason would be the incredible effort a griefer has to shoulder if he want to build a pipeline long enogh to grief a building.
At the moment the fluid system based on source blocks for water and lava. the source block spawns liquids that become less the farther away the block is from the source (see figure 1). while this is a common approach for a most of voxel-based games it give the chance to add an other gameplay-mechanism to B<.

A pump + pipe does not only transport water - in my idea it transports source blocks of water. regard a small lake like shown in figure 2 below.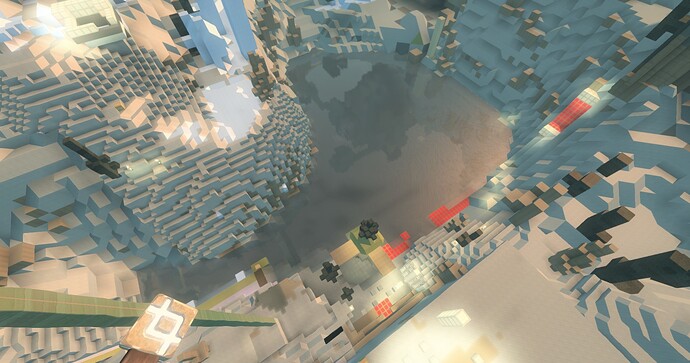 this lake is totally isolated from oceans or rivers. in "our" world / nature this lake would not last long. while B< is "fantasy" at all i'm fine that the like is there as long as he likes but consider you like to build in that area and you like to remove the lake you need to "fill" the lake up with sand and remove the sand afterwards. this is not a intuitiv solution. it would be much more intuitive pumping the lake in an other vallay or a cave in the ground. therefore a pumpstation would work like shown in figure 3.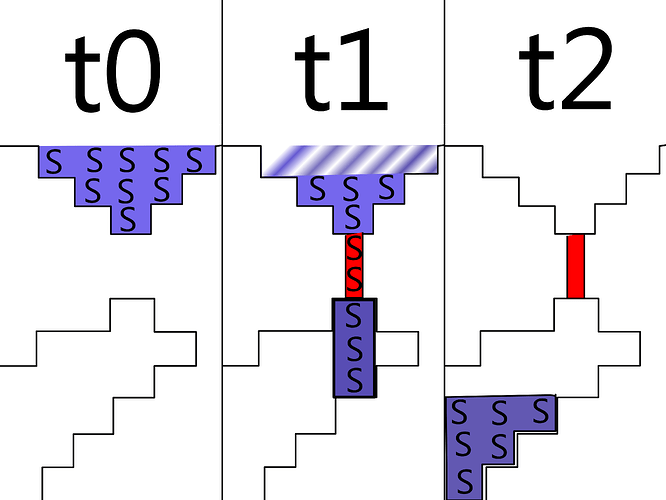 in the beginning (t0) you have the lake like shown in figure 2. now you like to dry it out and you place a pump under it and start to pump the water in a cave you found (t1) under the lake (maybe you pump it in an other vallay … it's not important where). after some time (maybe hours ?!) the lake is empty and all source blocks are remove from the lake and are in the cave (t2). now you are free to build whatever you like in the lake.
Farming / Agracultural Crops
this system would also work perfectly fine for agricultural crops. anyone remember the game "Emperor: Rise of the Middle Kingdom" from sierra ? in this game you had to build channels (pipes) to water your fields. if you tried to plant crops in the desert you needed to water it and take the water from a lake or ocean (not super correct beacuse it's salt water but that's not important anyway).
having a look on the fals color image of a desert with a river (figure 4). blue is the river, red is barren land and green is fertile land.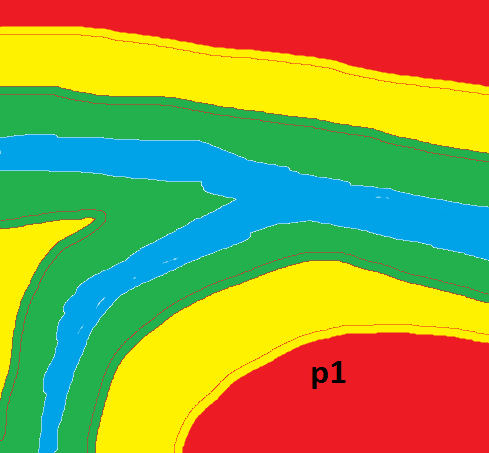 imagine all fertile land (green) is beaconed or taken by someone else and you like to plant crops in the area p1 which is a desert. but you have a river in the local area which provides water for your crops. now you need to build channels (pipes) to bring the water in this area.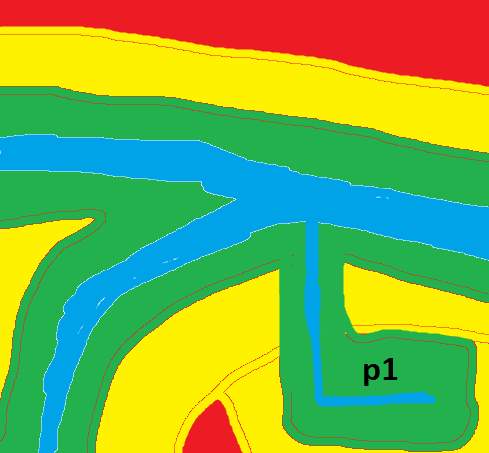 as you can see in figure 5 the region p1 became fertile because you placed a water channel in it. in my opinion, this would add a lot more gameplay-depth to B< if you are NOT able to plant your crops where you like and you need to plant crops on fertile land. this way, some worlds would be better suited for farming while others are better for mining or hunting. it would also be conjunct with high costs if you like build a paradise in the desert.
Weather System
the last point i thought about is the weather system. at the moment i'm sure it is only local for the player himself (you can change the weather with CTR + 0-9) which is nice for pre-alpha and making nice screenshots but i really hope it will be removed till 1.0 because i find this really annoying (why would someone every select rain + night in the final game ?! but it's there and it's realistic that it rains now and then)
(@james: side-question: do you have a "world-wide" weahter system planed ? or is the weather like in real live different on different spaces in the world ?).
the weather system could be some sort of world-regeneration for water. if you pump water or remove water from rivers the rain could "refill" this sources. in this way you can't just remove your pumpstation (because the lake would return) and it can't happen that a world is dry because someone removed all water from the surface (even if that would be extremely realistically).
i hope you understand my idea … any feedback is as always welcom