This week we have made progress with the development of new features such as: machine crafting, the associated updated GUI, the family plan for the creatures, and more props. We have made a few minor releases that (almost) complete the C++ version of the game. Details of the 2 updates can be found here and here. The C++ beta release now supports exploding arrows so remember the golden rule when playing with your neighbours.
In the coming few weeks we want to start making more progress on the production of creature assets and their AI behaviours. We also want to start finalising the World Builder update that includes all the resource regeneration and world regeneration technology. We really want people to get their hands on the new World Builder as well as the C++ version with resource generation and regeneration next month. This update aims to give us all the tools to start making biomes for Boundless 1.0.
---
Code
The game has already started hitting the block ID limit of 256, so to support the rich block and prop set we want in Boundless we're updating the world data to be 16 bits per block which will allow far more combinations than the previous 8 bits. We've also worked on some development tools for rapidly placing all block types and props, with all tints, and all slope variations into a test world, this will allow our artists to more easily evaluation and test their new assets and see how tinting, lighting and environmental effects look.
We've continued working on the GUI for machines and crafting, the machines can now be placed, linked up and serialised.
We continued work on the PSVR demo to get rid of some of the choppiness that can cause nausea. To help improve the smoothness we're updating the PS4 graphics driver in a few areas, mainly when updating the vertex data (which happens when we mesh the chunks), and the shader pipeline.
Design
This week saw the overarching creature design come together with good progress on the 1.0 feature set, and the systems that will drive them. Expect a devlog update on this soon.
It's been fantastic to work with the coders on implementing the crafting and machines. It's coming along well, and we're starting to try and get some representative recipe data in. That's something that will continue next week, but it's really good to be seeing core game features getting built.
We also spent some time looking at the PSVR demo from a design perspective, and it's starting to look nice. We're still working out exactly what we want to do with it, but it's been a very interesting process understand how it works.
We've also been thinking about the permanence of beacons which we'd really like your thoughts on, please see the forum post here. This is a really important issue - so make sure you contribute to the discussion.
GUI
This week we spent some time investigating navigation within the new GUI. A core component how we explain the user's navigational hierarchy within GUI in Boundless is using 3D depth. You can see some mockups of how it's going to look here. In addition, if you'd like to get alcohol poisoning you can imbibe every time @ben mentions a user experience buzz-word or fancy-pants designer term like 'navigational hierarchy'.
Leading off into the next phase of GUI implementation we're working on an icon palette (imbibe) for Boundless. We're looking to visually describe terms like: friend, home, wearables, dead, breath, capital, etc. Our aim is to create a set of recognisable icons that feel like they belong within the Boundless universe – but they aren't Oort glyphs. Below is some of the early development on the palette: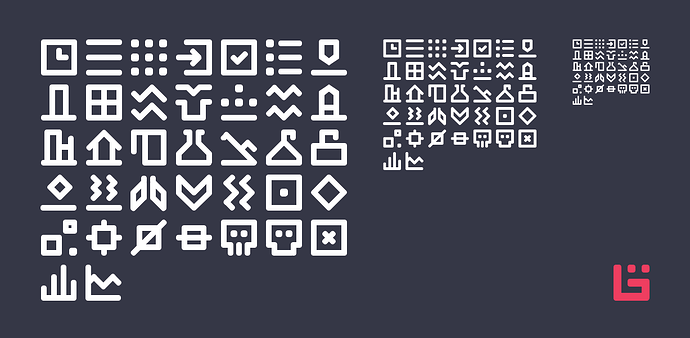 Art
This week we've continued to flesh out the creatures. Using the Cuttletrunk we've explored the visual language of progression. This includes how a creature will visually look different to reflect it's gameplay variations. We'll post more details in a devlog post soon. In preparation for creating more creature assets, we've also been reviewing the rig requirements for the Cuttletrunk which will be the next creature implemented.
We've concepted various props which we'll share in a future devlog post: mystery box, paid lock and location signal. We've also continued producing tint-able items: steak, roll of paper, cloth and leather, plus a very large nail, and explored some updated ambient flowers.
The character animations focus has been on the inventory, lots of gifs, pics and dev details in the devlog post. We've also made a new emote - a single person Mexican wave which we'll share on the forum soon!
---
Step by step…