Every world in Boundless is a planet and server. All twelve servers are separated by four geografical areas. Below is the universe map "the Crown of the Boundless" where every area is represented as a column: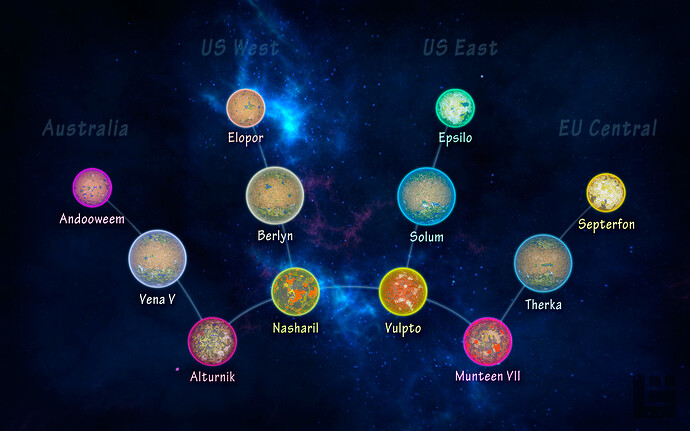 Also worlds are divided by three categories of enviroment aggresion: home worlds. moon worlds and ring worlds. Moon worlds placed in top row on the map, home worlds - in middle row, and ring - in down row.
Connection between worlds
Lines between worlds are the paths of traveling. From each world you can see only worlds which connected by lines with this one. You can take coordinates with Totem only by worlds you see among you in the sky. If you havn't any coordinates, you would travel only by this lines.
Starting worlds
When player enter in the Boundless universe first time, he find himself in the home worlds of his area. Here is the most friendly enviroment: is a dense forest for wood and the aggressive creatures are weak and scanty. Here is all what you need to create Warp Location Picker Upgrade and travel to other worlds, but precious metals are rare and gems can't be discovered.
Moon worlds
Moons are less friendly. Now two of four moons are covered by ice and two others are covered by deserts. Creatures of moons are more tought against of home worlds. However, every moon can hide gems or bigger amount of metals. Now gems are discovered only on Epsilo, but I think we can find it on Septerfon too.
Ring worlds
This worlds are stations of the big road across the universe. And it the most aggresive for travelers. Here you can often find lava lakes and most tought foes - Hoppers and Cuttletrunks. But the deeps of three worlds (as a min) of four are contain lot of gems - it not confirmed only for Alturnik.
Here is a schematic represent of each world below:
A cradles of civilisations
<img src="/uploads/default/original/2X/4/498c1db565fad1dbe2a26773a46e169f28cbdbdb.png" width="25" height="25"> Therka (EU Central)

http://i.igrotop.com/g/b/boundless/wiki/therka.png

Type: EU Central home world
Landscapes: deserts, plains, swamps, mountains, dense forests, glaciers.
Sky colour: blue

Settlements:

Creatures:

Wildstocks - I & II
Spitters - III
Roadrunners - I

Sights:
<img src="/uploads/default/original/2X/4/4872a535c7e0b3f1755c59c09d2b4a316f93976d.png" width="25" height="25"> Solum (US East)

http://i.igrotop.com/g/b/boundless/wiki/solum.png

Type: US East home world
Landscapes: plains, dense forests, swamps, mountains.
Sky colour: teal blue

Settlements:

Creatures:

Wildstocks - I & II
Spitters - III
Roadrunners - I

Sights:
<img src="/uploads/default/original/2X/4/461f696514eb3d089d6f57cfbbf365e5d6cf4f8d.png" width="25" height="25"> Berlyn (US West)

http://i.igrotop.com/g/b/boundless/wiki/berlyn.png

Type: US West home world
Landscapes: deserts, plains, mountains, glaciers.
Sky colour: brown beige

Settlements:

Creatures:

Wildstocks - I & II
Spitters - III
Roadrunners - I

Sights:
<img src="/uploads/default/original/2X/9/945b8a082ed68ff19af9d73dad3db41c064c18ff.png" width="25" height="25"> Vena V (Australia)

http://i.igrotop.com/g/b/boundless/wiki/vena_v.png

Type: Australian home world
Landscapes: deserts, dense forests, mountains, glaciers.
Sky colour: light blue
Settlements: N/A

Creatures:

Wildstocks - I & II
Spitters - III
Roadrunners - I

Sights: N/A
Night luminaries
<img src="/uploads/default/original/2X/e/e5b42c782e557e919799b761ccf11a0adadac682.png" width="25" height="25"> Septerfon (EU Central)

http://i.igrotop.com/g/b/boundless/wiki/septerfon.png

Type: EU Central moon world
Landscapes: icy wastelands, glaciers, taiga forests, craters.
Sky colour: orange yellow

Settlements:

Creatures:

Wildstocks - II и III
Spitters - III

Rare resources:

Sights: N/A
<img src="/uploads/default/original/2X/4/4e4269d1cef5bcd2debce6b57992c2f049891490.png" width="25" height="25"> Epsilo (US East)

http://i.igrotop.com/g/b/boundless/wiki/epsilo.png

Type: US East moon world
Landscapes: icy wastelands, glaciers, taiga forests, hexagon mountains.
Sky colour: teal green
Settlements: N/A

Creatures:

Wildstocks - II и III
Spitters - III
Roadrunners - II
Hoppers - III

Rare resources:

Gems: Topazes
Gleam: goldy

Sights: N/A
<img src="/uploads/default/original/2X/6/647cb0cbdbed8a2e55cee7bbe91a9389742efa5e.png" width="25" height="25"> Elopor (US West)

http://i.igrotop.com/g/b/boundless/wiki/elopor.png

Type: US West moon world
Landscapes: deserts, wastelands, steppes.
Sky colour: beige
Settlements: N/A

Creatures:

Wildstocks - II и III
Spitters - III

Rare resources:

Sights:
<img src="/uploads/default/original/2X/3/3875d40c0752cc9b824592daa402d6acaaa7131f.png" width="25" height="25"> Andooweem (Australia)

http://i.igrotop.com/g/b/boundless/wiki/andooweem.png

Type: Australian moon world
Landscapes: deserts, wastelands, steppes.
Sky colour: violet
Settlements: N/A

Creatures:

Wildstocks - II и III
Spitters - III

Rare resources:

Gem: Diamonds
Gleam: white

Sights: N/A
The highways
<img src="/uploads/default/original/2X/a/ac8971b839d04dc95087e657033db91e538503be.png" width="25" height="25"> Munteen VII (EU Central)

http://i.igrotop.com/g/b/boundless/wiki/munteen_vii.png

Type: EU Central ring world
Landscapes: graveyards, forests, igneous wastelands, floating islands, lava lakes.
Sky colour: lilac
Settlements: N/A

Creatures:

Wildstocks - IV и V
Spitters - III и V
Roadrunners - III
Hoppers - III
Cuttletrunks - I и III

Rare resources:

Gems: Amethysts (avg. Y: 60-70)
Gleam: bright blue

Sights:
<img src="/uploads/default/original/2X/8/843e92435fcb49417f2381bfdc415fa2055b0322.png" width="25" height="25"> Vulpto (US East)

http://i.igrotop.com/g/b/boundless/wiki/vulpto.png

Type: US East ring world
Landscapes: forests, steppes, glaciers.
Sky colour: rich yellow

Settlements:

Creatures:

Wildstocks - IV и V
Spitters - III и V
Roadrunners - I
Hoppers - III
Cuttletrunks - I и III

Rare resources:

Gems: Rubies - (avg. Y: ~40)
Gleam: red

Sights: N/A
<img src="/uploads/default/original/2X/4/49fa71e5e794ef7f7e96f34782b336bb4fdac832.png" width="25" height="25"> Nasharil (US West)

http://i.igrotop.com/g/b/boundless/wiki/nasharil.png

Type: US West ring world
Landscapes: forests, mountains, floating islands, lava lakes.
Sky colour: yellow
Settlements: N/A

Creatures:

Wildstocks - IV и V
Spitters - III и V
Roadrunners - I
Hoppers - III
Cuttletrunks - I и III

Rare resources:

Gems: Sapphires
Gleam: bright yellow

Sights: N/A
<img src="/uploads/default/original/2X/e/e56a7bbb6c36620c628f7796c312fe027f1c28e7.png" width="25" height="25"> Alturnik (Australia)

http://i.igrotop.com/g/b/boundless/wiki/alturnik.png

Type: Australian ring world
Landscapes: N/A
Sky colour: vinnous
Settlements: N/A

Creatures:

Wildstocks - IV и V
Spitters - III и V
Roadrunners - I
Hoppers - III
Cuttletrunks - I и III

Rare resources:

Gems: N/A (possibly -

emeralds

or

diamonds

)
Gleam: light blue

Sights: N/A